Coach Nate Oats had a good squad down in Tuscaloosa in his first season as the Alabama head basketball coach. While they struggled more than many thought they would, they finished with a 16-15 record heading into the SEC Tournament. They were led by one player who will be playing in the NBA soon. The 2020 NBA Draft projections predict him as a first-rounder, but not a lottery pick necessarily. There may be a lottery team that wants to take the risk, however. The talented guard spent two years at Alabama and is gearing up for the next step in his career. Let's get into why NBA teams want Lewis on their squad.
Offensive Prowess
Kira Lewis Jr. is a guy who knows how to get a bucket. Overall, Lewis has a high IQ on this side of the ball and uses his great speed and decent build to help him score or get fouled. Some thought that Lewis was going to be a potential one-and-done. Luckily he came back and definitely improved his game. Lewis improved his stats in points per game, field goal percentage, free-throw percentage, and three-point percentage.
Lewis averaged 18.5 points per game and dished out 5.2 assists per game. The previous year he managed less than 3 assists a game. A good, not great threat from deep, the young guard shot 36.6% from deep in the shortened season. While turnovers went up this season, Lewis more than made up for it with his efficient production on offense otherwise. He has the ability to score a lot of points quickly and will make lazy defenders pay.
Kira Lewis Jr. is a 6'3 guard out of Alabama with ridiculous quickness, can shoot it and has quick hands defensively.

Another guy who's real game will show in the NBA with all that spacing. He does a decent job of controlling and pacing his athleticism too.

? @Frankie_Vision pic.twitter.com/F6OjzAxKat

— Ball Don't Stop (@balldontstop) October 19, 2020
Athleticism and Speed
Watching Lewis play, it won't take long to notice his elite athleticism. NBA ready athleticism since his freshman year has made Lewis a fun player to watch. His speed allows him to barrel down the lane and then take off from just inside the free-throw line for a layup or kick out opportunity. When he has a clear path to the rim, defenders beware. Lewis is not afraid to try and dunk on an opponent if he feels like it.
His athleticism and speed will help with making up for mistakes on defense. It will also let him make plays other guys simply cannot. These two traits are invaluable at the NBA level and fast guards who can jump will always get the attention of scouts. Lewis should be able to show off his speed and athleticism in the pros quite well.
Hustle and Effort
Sure, Lewis is very talented, but he also puts forth great effort. That is most evident in a couple of statistical categories. The first of which is his rebounding numbers. From his freshman year to his sophomore year, Lewis increased rebound production from 2.6 per game to 4.8 per game. Lewis is willing to put his body on the line to make a play and get dirty on the court. His effort defensively allows him to be a pretty good point of attack defender and perimeter defender.
Lewis not only increased his offensive production and rebounding, but his defensive numbers went up. While his blocks per game are less than 1.0, his steals per game show his dangerous ability to guard the ball. From 0.8 steals in year one, Lewis improved to 1.8 steals per game in his sophomore season. That comes from putting hustle into the game and of course improving basketball IQ and instincts.
Weaknesses
One of the biggest knocks on Lewis' game is his lack of strength. There will be many guards who are bigger and able to outmuscle him. There is room for him to build strength without sacrificing athleticism, but that will have to be seen. The guard also can get lost while guarding off-ball, but that can be fixed with discipline. He will not be able to switch on defense too much. Players can always improve their shooting percentages. His FT% of 80% is good but could go higher. These are just the most obvious concerns.
2020 NBA Draft Comparison: Darren Collison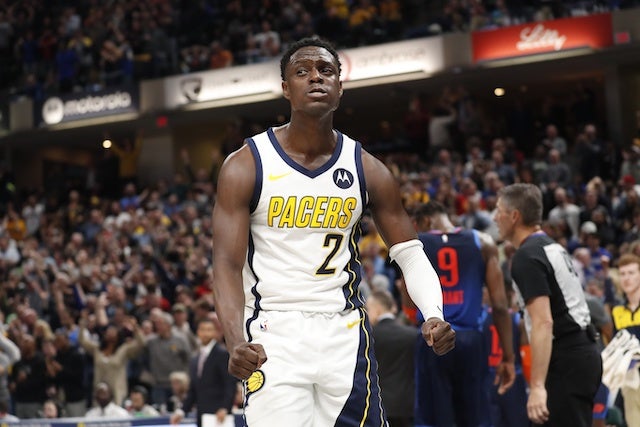 Darren Collison is a fairly fitting comparison. Both guards have similar body types. In Collison's best season's he showed off great speed and athleticism at times. The effort Collison put forth on the court is the same effort you will get from Lewis. There will be times where Lewis, like Collison, won't be the most talented player on the floor, but maybe the best performing. There isn't much to complain about if you are the team that drafts Lewis in the 2020 NBA Draft, with potentially a higher ceiling than Collison.