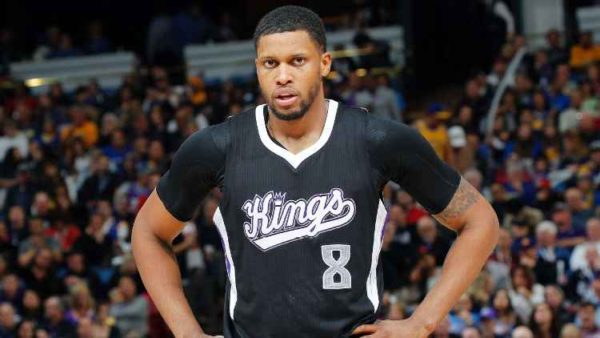 Sacramento Kings forward Rudy Gay is undecided on whether he will opt out of the final year of his contract, sources confirmed to Def Pen Hoops on Saturday.
Gay, who told Kings management earlier this season that he planned on opting out, suffered a season-ending Achilles injury in January. Before suffering the injury, he was averaging 18.7 points, 6.3 rebounds and 2.7 assists per contest.
"God does things for a reason," Gay said, according to Jason Jones of the Sacramento Bee. "I feel like the reason it happened to me was I needed to get back on my grind, do what I used to do, and I've had time to think about things I've done wrong and I can do better. I've always trained hard, but now I feel like I've got to do everything I can to be the best player I can."
With the sudden injury, Gay's value this summer has taken an unfortunate hit. He was included in various trade discussions last summer and in the months leading up to his injury, and, according to a source close to the forward, viewed Miami as a preferred destination. Other reports indicated he had interest in Houston, as well.
"I'm looking at where I feel most comfortable, where I can showcase my talents and win," Gay said on his potential upcoming free agency. "Wherever I think I can do that at, that's the place for me."
With Gay slated to miss the remainder of the season and his value suddenly decreasing, his agent, Roger Montgomery, will scan the market this summer and play a significant role in what comes next.
Gay fears he won't receive a respectable offer this summer due to the injury, as many anticipated he would, according to sources. This may sway him to remain with the Kings for another season, but so far, he remains undecided.
Among the teams to express interest in Gay this season are the Miami Heat, Houston Rockets and Oklahoma City Thunder. Should Gay choose to opt out of the final year of his contract and become a free agent, expect each of these teams to take a hard look at him in July.