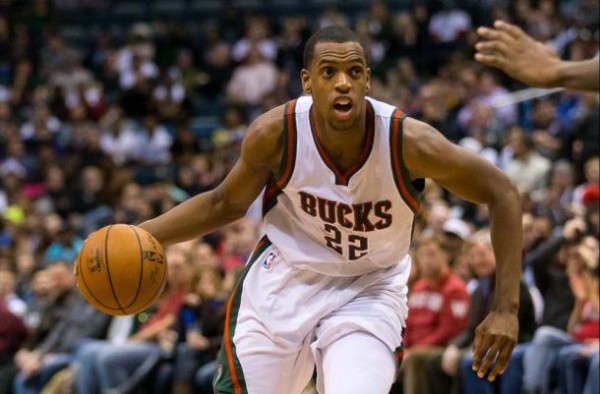 After all the hard work and consistency throughout his breakout year Khris Middleton was widely expected to garner attention and a big payday during this offseason. He averaged 13.4 points per game and shot 40.7 percent from three, and with those numbers acting as sufficient proof of things to come, it looks like he got it, according to ESPN.com's Marc Stein:
ESPN sources say Milwaukee and Khris Middleton are closing in on five-year, $70 million deal

— Marc Stein (@ESPNSteinLine) July 1, 2015
Among other impressive statistical milestones, Middleton somewhat famously ranked tenth in the entire league in Real Plus-Minus(+6.07), reflecting the critical role he played in the Milwaukee Bucks' turnaround under Jason Kidd.
Both Middleton and the Bucks had expressed their interest in moving quickly once free agency opened Wednesday, and that they did. This is a gorgeous deal for the Bucks, $14 million per year for a starting-caliber two-way wing is going to be a steal when the salary cap goes up.
On the other hand however the Bucks still need some depth in the frontcourt which they are currently addressing in other free agency pursuits. The Bucks have been linked to a few free-agent centers, including Brook Lopez, Tyson Chandler, DeAndre Jordan, Greg Monroe and Enes Kanter. Team officials were scheduled to have a face-to-face sit-down after 2 a.m. ET Wednesday in Washington, D.C., starting with Detroit Pistons' unrestricted free agent Greg Monroe.
After a surprising playoff run with lots of budding talent on their roster, it seems they're building a good thing in Milwaukee with Kidd's leadership and it will surely be interesting to see how far they can take this turnaround.