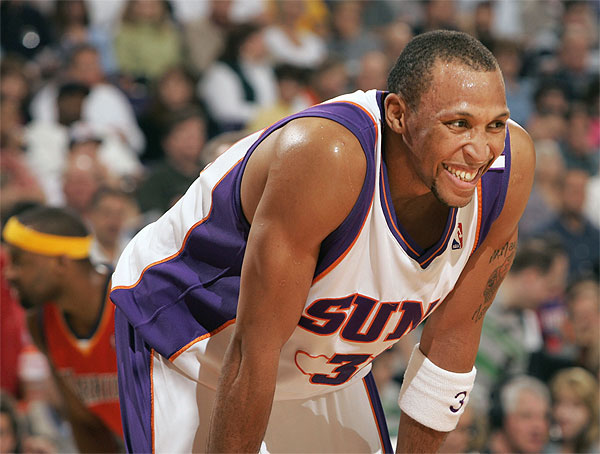 Current member of the Cleveland Cavaliers, Shawn Marion, was once one of the best players in the NBA. Marion and his crooked pinky finger were one of the main parts of the 'seven seconds or less' Phoenix Suns teams that ran around the NBA in the 2000's.
Marion, partnered with Steve Nash and Amar'e Stoudemire, had a formidable team but they never really saw any major success. It came to a point where the Suns needed to make some changes to their roster and get new blood in. The first to go, Shawn Marion.
Marion was expendable in the 2007 season because he had an expiring contract but he also wanted a max deal. The Suns weren't going to give that to a falling star so instead they made a deal to send Marion to the Heat for Shaquille O'neal. That wasn't always the first plan though.
Following from Dan Le Batard of the Miami Herald.
Miami's Big 3 would have never gotten together if Shawn Marion, of all people, had gotten what he wanted. Marion was so stubborn about wanting a max contract back in 2007 that his insistence helped blow up a three-team deal that could have sent Kevin Garnett from Minnesota to Phoenix. That deal would have prevented Garnett from ever teaming up with Paul Pierce and Ray Allen to win a championship in Boston. But Marion wouldn't re-sign with a trading team that wasn't offering the max, so he was instead sent to Miami for a disgruntled Shaquille O'Neal. Miami offered Marion a four-year contract that would have also kept Miami's Big 3 from uniting, but not at the max. So Marion asked to be traded … and had to settle in Dallas for a five-year, $39 million deal that was far less than the max.
Marion's time with the Heat was short. He was famously trade with Marcus Banks to the Heat and then he was trade one season later with Marcus Banks to the Toronto Raptors. As Le Batard states, Marion then went onto the Dallas Mavericks and got his final big contract of his career.
This isn't the first time a possible 'Big 3' busting trade. Way back in the day ESPN.com's Chad Ford and Marc Stein reported that there were talks of a four-way trade that would have sent Garnett to the Suns, Marion to the Boston Celtics, Amar'e Stoudemire to the Atlanta Hawks and the No. 5 overall pick in the 2007 draft to the Minnesota Timberwolves.
Imagine how much history would've been affected if any of these deal went down, or even the other Kevin Garnett deal involving the Los Angeles Lakers that was reported recently. The Big 3 in Boston would've never happened, meaning that the Miami Heat would not need to form their own 'Big 3' to combat Garnett, Allen and Pierce. The thought of KG and Steve Nash together to end the prime of their careers is just fascinating in itself.