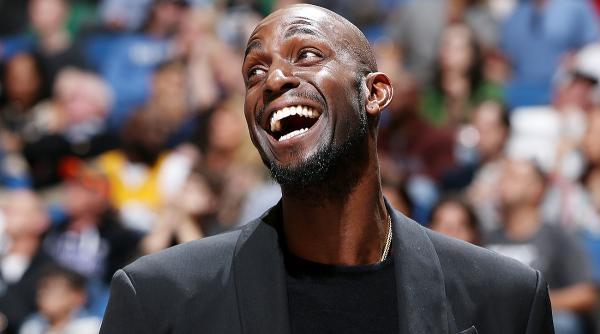 After Kevin Garnett announced he would be retiring from the NBA, everyone was looking for what 'The Big Ticket' would do next. There were talks about the future Hall of Famer having an interest in buying part of the Timberwolves, coaches around the NBA wanted to bring him in as an assistant on their staff and he could always just disappear into thin air and do nothing.
But now it appears the KG has decided what he's going to do next. He's going to be joining the Turner Sports basketball coverage. Now it's undetermined whether or not he will join the 'Inside the NBA' team but he did make it official. He's going to be TNT's newest team member for NBA coverage. Buckle up.
Kevin Garnett made the news official last night on Inside the NBA.
Kevin Garnett joins the Turner Sports family https://t.co/9fuiojXVKZ

— TurnerSportsPR (@TurnerSportsPR) October 28, 2016
Adrian Wojnarowski of The Vertical on Yahoo! Sports adds some more information on what other endeavors KG might explore during retirement.
Sources: Beyond joining TNT's studio show, Kevin Garnett still talking w/ teams – including Cavs and Bucks – on 'coaching consultant' role.

— Adrian Wojnarowski (@WojVerticalNBA) October 28, 2016
It is possible Garnett could accept jobs with more than one team, making periodic stops into town to work with players, league sources say.

— Adrian Wojnarowski (@WojVerticalNBA) October 28, 2016
Kevin Garnett can do whatever he wants. No one is going to tell him to stop and if he wants to talk about the NBA with the guys and also teach Tristan Thompson some moves in the post, do it up. Kevin Garnett can do it all and no one is going to stop him.