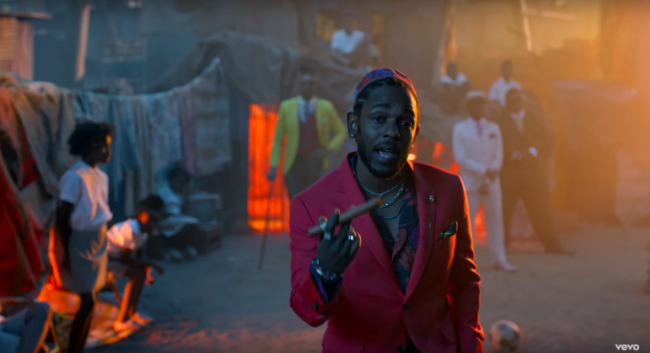 Less than three weeks after demolishing the Grammy Awards' stage and announcing 'The Championship Tour', Kendrick Lamar and Top Dawg Entertainment are back with more music. At midnight, Kendrick Lamar released the much anticipated 'Black Panther' soundtrack. Despite a bad review from a critic or two, anticipation for the 'Black Panther' soundtrack could not have been higher and the project did not disappoint. Complete with new music from Vince Staples, Jorja Smith, Travis Scott, Anderson .Paak and more, the album received rave reviews from just about anybody with a WiFi connection and a music streaming service subscription.
#BlackPantherTheAlbum is the new cruising playlist @TopDawgEnt @dangerookipawaa ???? pic.twitter.com/m9ZYggMOq0

— ???? (@LuisAngeles__) February 9, 2018
This Black Panther soundtrack is beyond incredible. I don't even have the words to articulate how good it is. Wow.

— Suga Knight (@keiopensdoors) February 9, 2018
"King of my city
King of my country
King of my homeland
King of the filthy
King of the fallen
We livin' again."
– @kendricklamar, "Black Panther" https://t.co/Sn2mSkBq8u

— Andrés Tardio ?? ? (@AndresWrites) February 9, 2018
Among the fourteen new tracks, fan favorites include 2 Chainz and Schoolboy Q's "X", SZA's "All The Stars" and Jay Rock's "King's Dead". Not to mention, the soundtrack features a major look for Vallejo, California's own, SOB X RBE. The rising California collective has gained attention from XXL, Genius and more over the past year. Their standout track, "Paramedic", appears to be the icing on the cake for the Bay Area collective.
The Kendrick and SOB x RBE song got me gassed for the weekend way early

— Craig Bro Dude (@CraigSJ) February 9, 2018
That "Paramedic!" Is Too Clean! @SOBxRBE

— P-Lo aka Lil Stunna (@p_lo) February 9, 2018
As the opening night grows closer, rest assured that the 'Black Panther' will be on repeat in every car, dorm room and living room across Wakanda. The album is now available to be streamed on all major streaming platforms, so do yourself a favor and check it out.