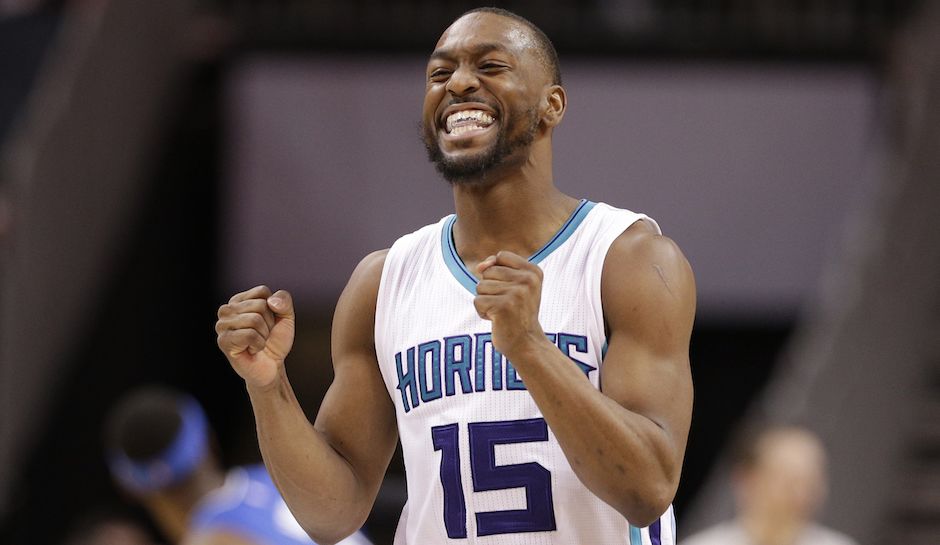 You've seen it, I've seen it, even your uncle, who'd prefer a peaceful game of chess to the NBA Finals, has caught a glimpse of it: the moment, back in March of 2011, Kemba Walker truly announced his presence on the national stage.
He jabbed hard to the right, five seconds left; crossed back to his left, shaking his defender, Gary McGhee, askew, four seconds left; hesitated and dribbled left as McGhee crashed to the hardwood, three seconds left; harnessed all the strength in his lower legs and didn't just step back, but launched back — from the free-throw line to just inside the 3-point line — two seconds left; elevated and drilled the game-winning jumper as the horn blared. The video board inside Madison Square Garden read: No. 19 UCONN 76, No. 3 Pittsburgh 74.
Yet Walker's rise to stardom on the NBA scene didn't arrive until the 2015-16 season when he averaged 20.9 points, 5.2 assists and 4.4 rebounds, spearheading the Hornets' run to the East's sixth seed — just their third playoff appearance in 12 years.
Retaining much of the core that aided Charlotte's charge to the postseason spurred the consensus that a prosperous future awaited the franchise. But since then, whether due to injuries or a myriad of other factors, the team hasn't rekindled that magic. They toiled to a 34-48 record last season and sit at 11-20 this year.
But despite the Hornets' struggles, Walker remains a bright spot, continuing to assert himself as one of the NBA's premier guards. Last season, he made his first All-Star team — the franchise's first since Gerald Wallace in 2010 — and this year, he's shown scant signs of slowing down, retooling his game and exhibiting his supreme worth to Charlotte as a franchise centerpiece.
Of all the players in the NBA this season, Walker is the only one averaging at least 20 points and five assists with a turnover rate of less than 10 percent and a usage rate above 25.
Now that tidbit of information isn't designed to imply that Walker is the best high-usage guard in the NBA that's reaching the aforementioned marks. Rather, it's to underscore that despite playing for a floundering team in a small market, the (generously-listed) 6-foot-1 Walker has established himself as a star.
When the UCONN product first arrived in the league, he was heralded as an undersized, supernova scorer, capable of taking over games with his bucket-getting tendencies. But during the genesis of his career, Walker struggled with shot selection, decision-making and defense.
By no means has Walker emerged as a defensive savant, lying somewhere between slouch and lockdown. Instead, the seventh-year guard is an offensive dynamo, crafty around the rim, shifty in transition and presenting a clear command as the Hornets' floor general.
Walker hasn't quite ascended to the same marks as last year's career-best campaign, but it's unquestionably his second-best season to date, averaging 21.2 points, 5.9 assists and 3.6 rebounds. Although, it would be reasonable to attribute his across-the-board decline to a left wrist injury suffered on Nov. 17 or a contusion in the AC joint of his left shoulder suffered on Nov. 25.
In 16 games since the initial injury, the 2017 All-Star has been limited, contributing 19.6 points, 5.4 assists and 3.4 rebounds on 37.7 percent shooting and 30 percent from 3-point range — all marks well below his season averages. Prior to Nov. 17, Walker was in the midst of inarguably his best season yet, posting averages of  25.2 points, seven assists and four rebounds on 45.7 percent shooting and 36 percent from beyond the arc.
But collectively speaking, Walker is still producing at an All-Star clip, doing so by continuing to harness the skills that have grown to characterize his play.
Over the course of his career, Walker has become an increasingly proficient scorer in the pick and roll, which the Hornets use to their strength. He calls upon this set 53.2 percent of the time, yielding 0.99 points per possession (85th percentile) and benefits from Dwight Howard's rugged screens, which often free him for open looks. Charlotte frequently utilizes a high screen and roll, which presents their star with no dearth of opportunities, including the chance to pull up for 3:
And if the opposition fights over the screen, Walker is entirely capable of darting to the rim:
If Russell Westbrook's a totalitarian ruler in his need to dominate the ball, Walker is merely a monarch. He's at his best working with the orange, but it isn't a necessity in order for him to foster a positive impact.
This skill affords the Hornets increased creativity in their offensive sets as Walker is scoring 1.06 PPP (62nd percentile) this season when acting as a spot-up shooter.
Here, Jose Calderon remains pinned to Walker despite Howard receiving the ball in the lane with any defender no less than two feet away, leading to an easy bucket over J.R. Smith for the Hornets' center.
Walker's gravity demands the attention of the defense at all times, and with Jeremy Lamb emerging as an adept secondary playmaker, Charlotte is able to utilize its star in various ways, uncorking previously corked possibilities that materialized from Walker's improvements as a shooter.
Oh, and when the defense does decide to help off of Walker, positive results follow for the Hornets:
He's also masterful bolting around screens for catch-and-shoot 3s, channeling twitchy movements to spring free of his defender:
Yet when Walker trots to the bench for some well-deserved oxygen — he's 18th in the NBA in minutes played at 35.2 per game — the Hornets fall apart. Walker sports an On-Off rating of plus-23.4, steering the team to an Offensive Rating of 111.5 and a Defensive Rating of 105.2 — both of which would rank in the NBA's top six.
While on the court, Charlotte outscores its opponents by 6.4 points. When he's riding the pine, the team is outscored by 17 points. Their ORtg plummets to 93.6 (nearly nine points worse than the Bulls' bottom-barrel mark of 102.2) while their DRtg spikes to 110.6 (would be ninth worst among all teams). Due to Charlotte's substandard record, the Bronx, New York native doesn't necessarily meet the traditional criteria for MVP, but he may very well be the player most crucial to his own team's successes and failures.
Without their star, the offense stagnates. Whoever has the ball is attempting to create a shot for themselves. There's little off-ball movement as the other four players remain idle, watching the action unfold as though they were a fan with courtside seats:
Frank Kaminsky is clearly searching for relief, but not one Hornets player cuts to the hoop — or does anything for that matter. This is a situation all too familiar in Charlotte as the team's playoff hopes dwindle each minute Walker sits.
Michael Carter-Williams creates zero penetration into the lane off of Marvin Williams' screen and compounds the issue by telegraphing a lazy entry pass to Howard in the post that O.G. Anunoby easily snuffs out.
Charlotte is completely lifeless without its leader on the court and it derails any positive remnants left behind by Walker during his time on the floor.
As a playmaker, Walker's growth is evident in how he toys with the defense, dribbling the ball as though it were an extension of his 6-foot-1, 170-pound frame. He utilizes his diminutive stature to his advantage, ducking under outstretched arms and wedging through previously absent openings while probing the lane in search of setting up himself or his teammates for uncontested looks. He's judicious in the decision to give up his dribble — which spurs his minute turnover numbers — and when coming around screens in the pick and roll, his eyes are up, surveying the court, evincing polished vision for a player his size:
And yeah, he can still bury defenders with the type of vicious step back that first captivated the attention of the masses:
Cash.
In the open court, Walker is an elusive jitterbug, charging downhill to the cup and employing clever finishing moves, ranking in the 59th percentile (1.11 PPP) in transition plays:
The Hornets are a mess, beset by injuries the past two seasons. But amid the turmoil in Charlotte, Kemba Walker is thriving. No longer the one-dimensional, inefficient scorer he was out of UCONN, Walker has emerged as one of the league's must-watch stars. At just 6 feet 1 inch, he's able to do things on the court that most players of his size shouldn't be able to.
More than just a viral step-back jumper and nearly three seasons into stardom, his game commands a spotlight largely unattainable in Charlotte. I've seen his game; it's time for your chess-adoring uncle to do the same.
All stats as of Dec. 20.
All stats and video via NBA.com, Synergy Sports, 3Ball and Basketball-Reference.