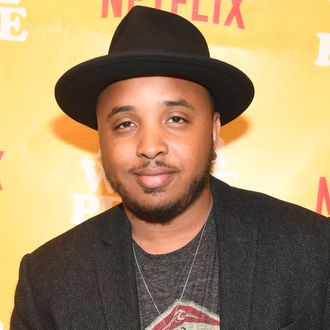 Dear White People creator Justin Simien will debut his horror satire, Bad Hair, on Hulu in October. During the stream platform's New Fronts presentation on Monday, they shared that the film would be rolled out as part of their "Huluween" campaign. However, Hulu declined to offer an exact release date within the month of October for the film's release.
"In this horror satire set in 1989, an ambitious young woman gets a weave in order to succeed in the image-obsessed world of music television. However, her flourishing career may come at a great cost when she realizes that her new hair may have a mind of its own," the film's official description reads.
Bad Hair debuted in Salt Lake City at the famed Sundance Film Festival. Many early reviews of the film point to its creativity and promise. However, those same reviews still point to Simien falling short of getting his point across.
Bad Hair is WILD.

Justin Simien made a horror film about hair and the film is bonkers. +hilarious, bold, and kind of controversial.

Hulu just picked it up, so the world will see this soon. #Sundance2020

Sidebar: Lena Waithe has perfect comedic timing. pic.twitter.com/yuLcimHnJe

— Dani Kwateng (@danikwateng) February 1, 2020
"Bad Hair, while powerful in its first half exploring Anna and her past, falters as it tries to understand Black women as a collective. Still, it should be commended for trying," Jourdain Searles of OkayPlayer wrote.
"Bad Hair had all of the right bones to stack up well, but in the end, despite the great acting and nuances of Black womanhood, especially as it pertains to our relationship with our hair, in a film with so many layers and themes crammed into its 115 minutes run time, Bad Hair doesn't quite know what it wants to say, leaving its audience stumbling around for answers," Aramide Tinbu of Shadow & Act adds.
Bad Hair will star Vanessa L. Williams, Blair Underwood, Kelly Rowland, Jay Pharoah, Lena Waithe and Laverne Cox. With the film five months away, be on the lookout for a trailer later this summer.