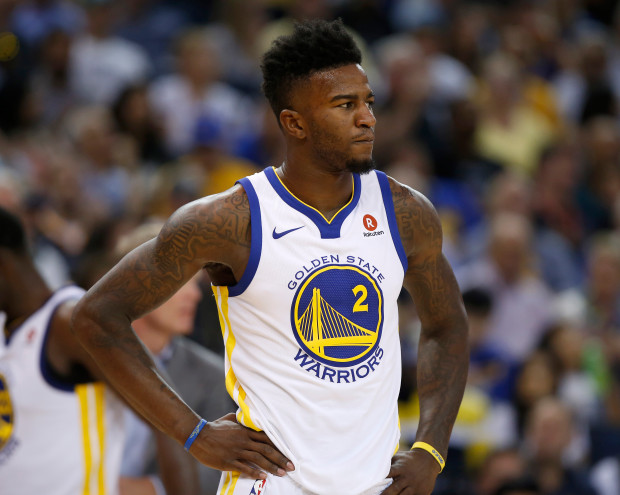 Warriors power forward Jordan Bell was suspended for Golden State's Wednesday night game in Memphis against the Grizzlies for what the team labeled as "conduct detrimental to the team."
The reasoning or the actions that led up to Bell's suspension were unknown at the time until reporting from Anthony Slater of The Athletic suggests that Bell made an unauthorized charge at a hotel the where the Warriors were staying.
What the exact the purchase was is still unknown, but according to Slater, the issue came when the team discovered Ball had used Warriors assistant Mike Brown's credit card to make the purchase.
The following from The Athletic:
The exact item or items and amount of the bill is unclear. What isn't, though, is who got unknowingly charged for it: assistant coach Mike Brown.

That, league sources say, was the reason for his team-issued one-game suspension, which Bell served during the Warriors' 118-103 victory over the Grizzlies on Wednesday night, the reasoning announced officially "conduct detrimental to the team."

Brown was alerted to the charge. He inquired about it. The staff at the Peabody Hotel, where the team stayed, confirmed its purchase. So the Warriors launched a quick investigation and it became clear that Bell is the one who put it on Brown's bill. There was concern, sources say, that this wasn't the first time Bell has pulled this maneuver on some unknowing member of the organization.
According to Mark Medina of The Mercury News, Warriors head coach did not want to speak to the incident saying to the media "No, not concerned with that; I'm not commenting on anything further."
Bell's tenure with the Warriors has not been without its ups and downs. The athletic forward impressed last season with his ability to fit into the Warriors' offensive game plan that is predicated on shot making and passing – two skills that seemed right into Bell's wheelhouse.
In 14 minutes per game, last season Bell averaged 4.6 points, 3.6 rebounds, and 1.8 assists a game while shooting 62 percent from the floor. This year, Bell's minutes have dipped to 11 a game as has his scoring and rebounding. Bell is averaging 3 points on 56 percent from the field, and 2.7 rebounds per game this season.