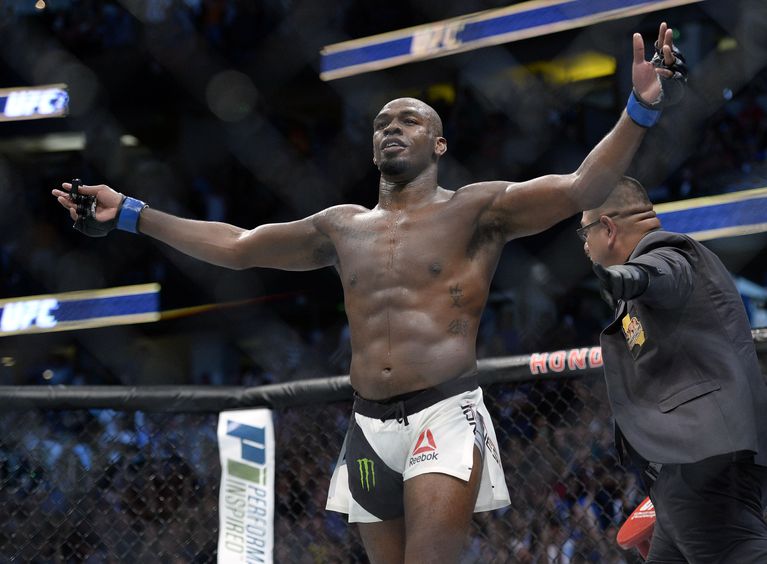 Jon 'Bones' Jones comeback is finally complete. 983 days after his last fight against Daniel 'DC' Cormier, Bones took to the octagon once again to face-off with his rival. The two had exchanged words for the better part of the last two years as Cormier dominated the Light Heavyweight division and Jones worked to get back into the UFC following some personal problems with drugs and the law. In front of his family and friends, 'Bones' Jones landed a huge knockout in round three of his bout against DC pushing his record against Cormier to 2-0.
Jon 'Bones' Jones knocks out Daniel Cormier in the 3rd round of their fight at #UFC214 pic.twitter.com/5w2w45Y7Qk

— Rob Lopez (@R0BaTO) July 30, 2017
An emotional Jon "Bones" Jones drops to his knees after regaining the UFC Light Heavyweight title at #UFC214 pic.twitter.com/5pgfmJ9DpA

— Def Pen Sports (@DefPenSports) July 30, 2017
Jones dropping to his knees would have been the highlight of the post-fight segment but then the new champ did one thing that caught the eyes of many combat sports fans. He called out current WWE Universal champion and former UFC Heavyweight Champion Brock Lesnar.
MIC DROP TO THE UMPTEENTH DEGREE FROM @JonnyBones #JonBonesJones ? ? ? #UFC214 pic.twitter.com/Gaha3QzA0e

— #UFC214 (@ufc) July 30, 2017
This isn't just something random, either. The two have been exchanging subtle shots for the last week. In preparation for the fight against Daniel Cormier, Bones did a Facebook live session and was asked about a potential brawl with Lesnar and Bones didn't back down from the challenge.
"I would love to fight Brock Lesnar. He's a massive dude, it would be a massive draw, really big for the sport. It would be a great challenge. That's a big old boy."
Lesnar quickly responded to Bones' saying he'd be open for a Lesnar fight, according to the Associated Press.
"Would I fight Jon Jones? Anytime, anywhere," Lesnar said. "Right now he should be worried about D.C. on Saturday night."
Fast forward to Saturday night and Jones took another chance to call out Brock. Once again, Brock Lesnar wasted no time responding to Jon 'Bones' Jones putting Brock's name in his mouth. Lesnar was indeed watching UFC 214, saw Bones' performance and comments following the fight. He wants Jones to be very careful, according to the Associated Press.
The Associated Press reached Lesnar shortly after he watched the championship fight and then heard Jones call him out.

"Be careful what you wish for, young man," Lesnar replied.
It would be a super fight for the ages. Two of the biggest names to step in the octagon over the last decade throwing blows, presumably at the heavyweight division. Unfortunately, we shouldn't expect that to happen anytime soon. Brock Lesnar still has to have his current WWE contract end after Wrestlemania next April, re-enter USADA testing and wait a few months to get through the suspension from his last fight. He tested positive for anti-estrogen in his system before his fight against Mark Hunt at UFC 200.
According to Brian Campbell of CBS Sports, UFC president Dana White does not have his sights set on anything to do with Lesnar right now.
Dana: "I haven't talked to Brock. I don't even know his USADA status right now. I think it takes 6 months before he'd be able to fight."

— Brian Campbell (@BCampbellCBS) July 30, 2017
Dana on Jones-Lesnar: "It's fun to talk about but the reality of it happening anytime soon, it's not a reality."

— Brian Campbell (@BCampbellCBS) July 30, 2017
Stay tuned. Remember, they said Conor McGregor vs Floyd Mayweather wasn't happening. We're now under a month from that bout.