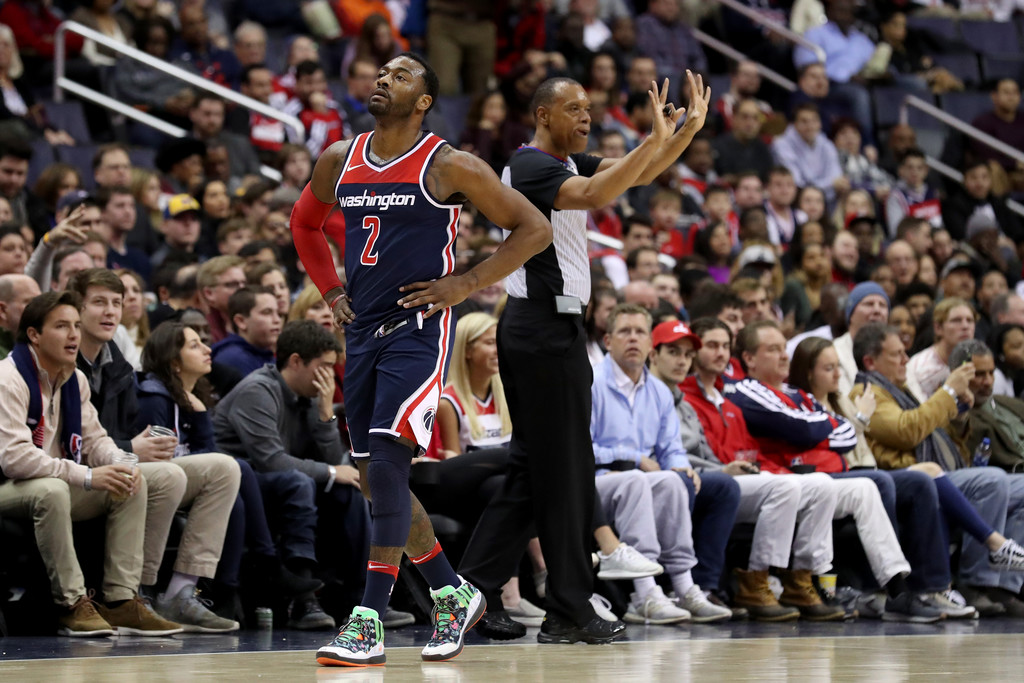 John Wall will not be playing with the Wizards for some time while he receives treatment on a knee that's been troublesome since early in the season. According to reports from the Washington Post's Candace Buckner, Wall is expected to miss 6-8 weeks after undergoing an arthroscopic debridement procedure to help with the pain in his left knee.
The Wizards have their sights on a postseason run and currently sit fifth in the Eastern Conference.
Buckner reports that Wall wanted to have the procedure before the All-Star break, consequently missing the All-Star game, so that he would be ready and cleared for basketball activities once the team is just beginning its playoff push.
The knee cleanup will force Wall to miss the All-Star Game next month, which would have been his fifth time playing in the exhibition. He was voted into the game as a reserve along with teammate Bradley Beal by NBA coaches last week, giving Washington its first pair of all-stars in the same season in 10 years. Wall decided to have the knee scope immediately and miss the All-Star Game so that he can potentially return in advance of the playoffs, according to a person with direct knowledge of Wall's thinking.
Wall is averaging 19 points, three rebounds, and nine assists per game for the Wizards. The Wizards and head coach Scott Brooks look to Wall and Beal to make a majority of the team's plays on the offensive end. With Wall to miss a little over 20 games, the Wizards will need to look for other ways inside the roster to keep the offense running.
Backup guard, Tomas Satoransky is aware of the task ahead in starting in Wall's place and is prepared to take it head-on.
"John is the main guy, so it's always tough to cover your main guy when he goes down, and it's very challenging," Satoranksy told the Washington Post. "Obviously I like challenges, but it will be a lot of responsibility. Playing for me as a starter against other starters, it's another challenge and step up in my game, so we'll see how it goes. But I think we have great teammates here and great players who also can embrace the moment and make the best out of it."