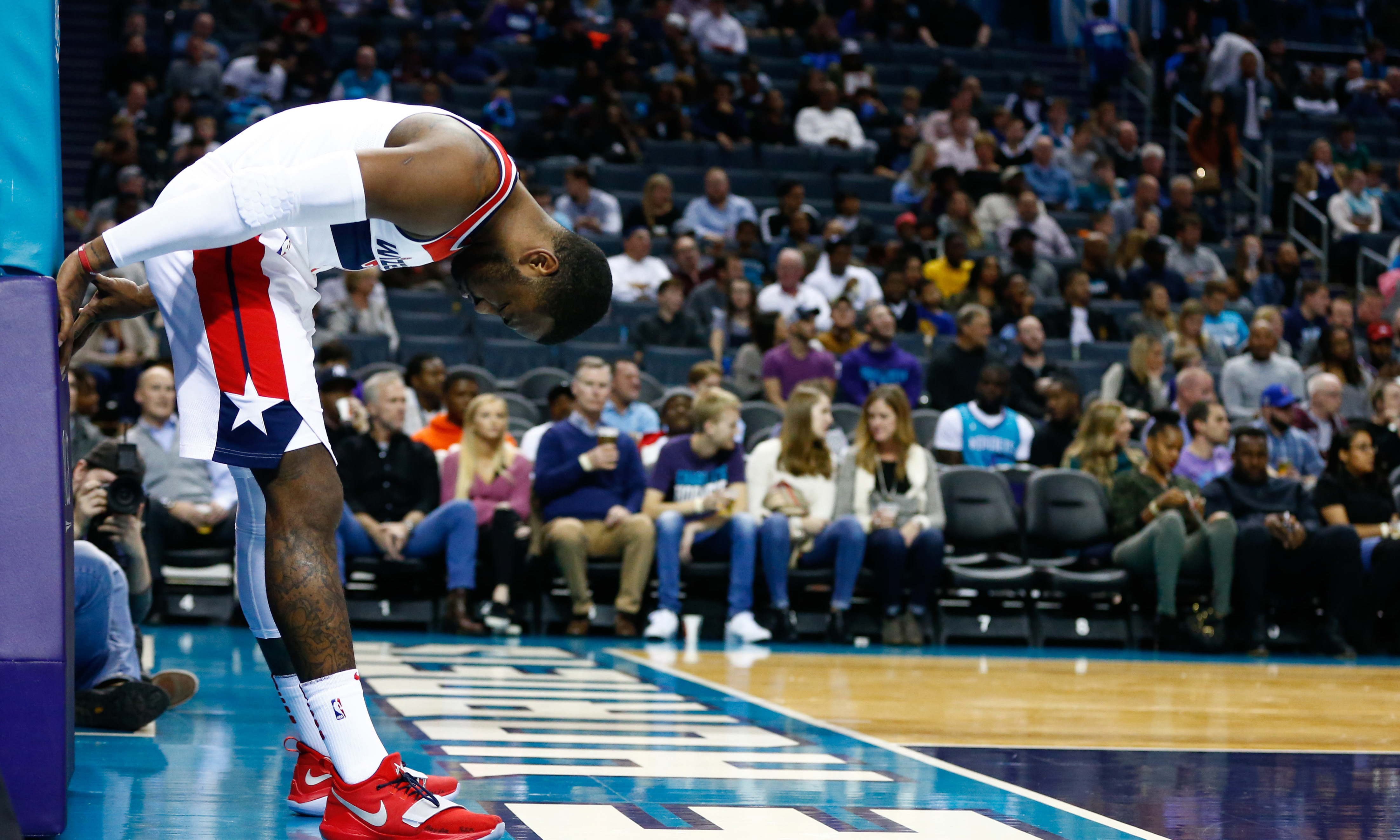 As the Washington Wizards continue to stumble their way through what's been a forgetful season, the club has been dealt a devastating blow, this time on the injury front.
Point guard John Wall, who has battled a slew of injuries throughout his professional tenure, is set to undergo surgery on his left heel that will sideline him for the remainder of the NBA season, according to ESPN's Adrian Wojnarowski and Brian Windhorst. Wall is opting for the surgery in order to alleviate a nagging injury that he's been battling through for over a year.
Washington Wizards star John Wall is planning to undergo season-ending surgery to repair bone spurs in his left heel, league sources told ESPN.

Wall, 28, is expected to finalize a timetable for the procedure in the coming days, sources said. Recovery could sideline the point guard for six months…

Wall was trying to play through the injury, but it was getting worse, sources said, and opting to have the surgery now should allow him to return healthy for the start of next season.
Of course, there is some silver lining to John Wall's upcoming procedure, though a franchise player undergoing surgery is never encouraging. With an injury timetable of approximately 6-8 months, Wall should be back for the start of next season and perhaps fully healthy for the first time in years. That could prove to be a breath of fresh air for a Wizards team desperately in search for anything positive.
Following a putrid opening few weeks to their season, Washington's slim chances of making any noise this season continue to dwindle even further. A mark of 13-23 has them well on the outside looking in as far as the Eastern Conference playoff picture goes and now with Wall sidelined, Washington appears to be on the fast track towards a lottery pick.
Of course, there's been no shortage of trade rumors swirling around the franchise in recent weeks either, largely including John Wall and his counterparts Bradley Beal and Otto Porter. Whether Wall's looming extended absence has any bearing on that front remains to be seen, but flipping either Beal or Porter for younger assets could be in Washington's best interest considering a rebuild may be in the cards.
Wall put up serviceable numbers this year to the tune of 20.7 points per game to go along with 8.7 assists in 32 appearances but was far from his usual electrifying self. Wall lacked that elite second gear that made him one of the toughest covers in the NBA and had simply too many lapses on the defensive end for the Wizards to succeed. Hopefully Wall comes back next season more motivated than ever to lead Washington after what will likely amount to be a severely disappointing 2018-19 campaign.