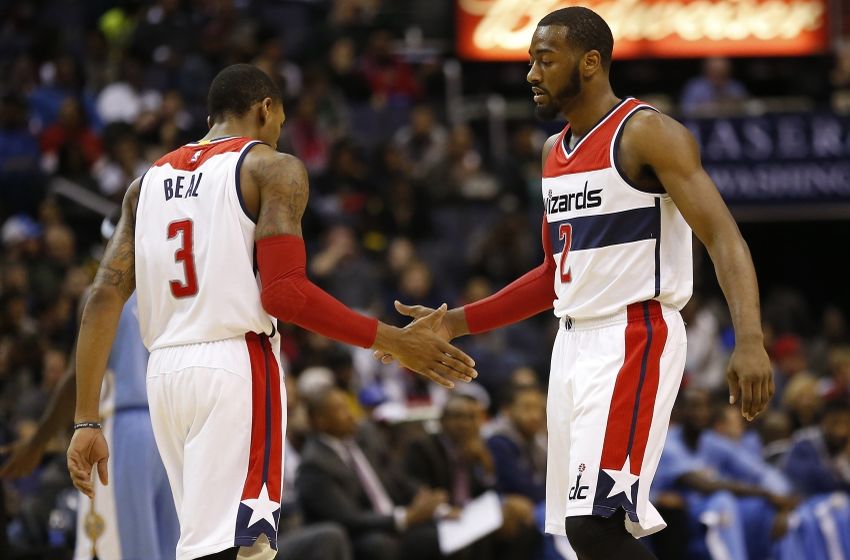 The Washington Wizards continue running through their opposition and their sucess has been one of the headlines of this NBA season with their absolutely stellar play. They've been riding a historic stretch of basketball, one that has turned their once bleak season around. As it currently stands, the Wizards are in a tight battle with the Boston Celtics for that second seed in the Eastern Conference, right behind LeBron James and the Cleveland Cavaliers.
Though Scott Brooks has emerged as a legitimate coach of the year candidate and all the starters are putting up consistently solid numbers, it's been the play of Bradley Beal and his backcourt mate John Wall who is frankly playing on an MVP level. The star point guard is averaging 23.1 points per game to go along with an impressive 10.7 assists. Even Beal has finally managed to stay healthy and he's showing us what we knew he was capable of all along, putting up nearly thirty points per contest since the All-Star break. Factor in the improved play of forwards Otto Porter and Markieff Morris and the Wizards are a team no one is going to be taking lightly once the playoffs roll around.
John Wall and Bradley Beal were already one of the top backcourts in the league but with this most recent stretch of basketball and the sporadic play of the splash brothers in Golden State, there can be a case made for Washington possessing the best backcourt in all of the NBA right now. We've not only seen Wall and Beal excel on the court like never before, but the two have also developed a better relationship off it. There was a lot made of the reported tension between the two young guards but Wall said in an interview with Marc Spears of The Undefeated that he and Beal never had a bad relationship, to begin with:
How would you describe the relationship between you and Beal now?

It never was bad. But now we spend more time together off the court. He had [former Wizards guard] Garrett Temple [now with the Sacramento Kings]. That was his guy. I had my guy. But now we spend a lot more time together. We're just building a bond. We always joke and have fun. We play cards on the plane with each other. All that stuff equaled up to us making a better bond.

We never disliked each other. There are times on the court where you are going to dislike a player. You want the ball. They want the ball.
Obviously, the improved relationship between Bradley Beal and John Wall has directly translated into better chemistry on the court and more wins. There are a plethora of talented backcourts in today's game but with how Wall and Beal are performing and racking up wins simultaneously, I'd have to lean towards them being the best guard tandem as it currently stands. Both have the ability to take over a game when they want and their ability to play alongside one another while both being volume scorers says a lot about their mature relationship and tunnel vision towards winning.
Moving forward, the Wizards hope to carry their blistering hot play into the postseason, as they now have all the tools necessary to make a real push towards the Eastern Conference Finals.