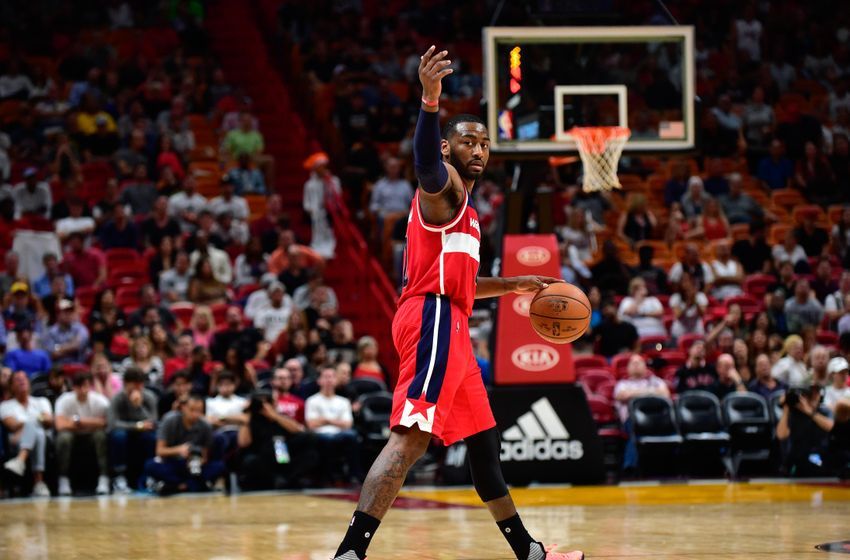 For the third time in six years, Washington Wizards point guard John Wall will try once again to take home first place in the skills challenge on February 18 during 2017 NBA All-Star Weekend, according to Candace Buckner of the Washington Post.
The skills challenge is a race that involves players dribbling the ball through a series of fake defenders, throwing a chest pass at a target, more dribbling that leads to a layup or dunk, and then finished off by dribbling down the court again, and the first player to hit a three wins the round. There are four guards and four big men who compete. Karl-Anthony Towns was the winner last year after a thrilling final matchup against Isaiah Thomas.
Wall's first attempt at the skills challenge was in 2011. He went up against Chris Paul, Russell Westbrook, Stephen Curry, and Derrick Rose. Wall didn't make it past the first round, with Curry taking home the hardware. Wall tried the next year again but ended up with the same result as the first time. He almost made it past the first round but lost to Rajon Rondo in a tiebreaker. Tony Parker went on to win the 2012 skills challenge.
John Wall is currently averaging a career high in assists with 10.3 on the season, good for second-best in the league.
Wall is currently the only guard to have confirmed his participation in the 2017 NBA All-Star Skills Challenge, joining Sacramento Kings' big man as the second player to enter his name in the contest. There is no word yet on whether Towns will defend his crown or not.