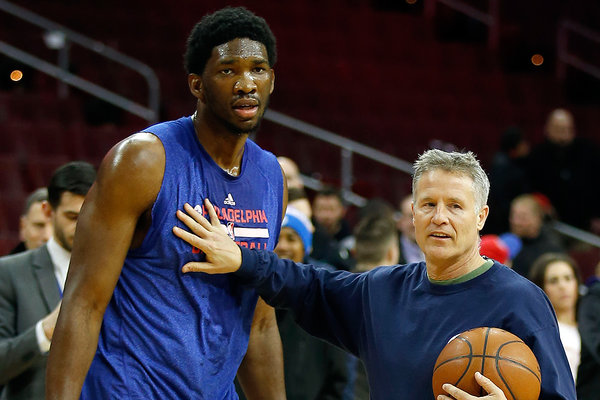 The Philadelphia 76ers will expectedly have a fully healthy Joel Embiid this season. Embiid was selected third overall in the 2014 NBA Draft but has yet to play an NBA game due to recurring operations in the 7-foot-2 center's right foot.
Head coach Brett Brown has already begun talking about his strategy for using Embiid on the floor, one that involves using him as the Sixers' primary defensive anchor. According to the Philadelphia Inquirer's Keith Pompey, Embiid is still expected to have his restrictions, which includes not playing in any back-to-backs:
The Sixers will have him on a minutes restriction. Embiid also isn't expected to play on back-to-back nights. They won't know if he'll start at center against the Oklahoma City Thunder in the season-opener until after consulting with the medical staff.
The infamous logjam the Sixers have in the front court could work to their advantage in this case. When Embiid isn't able to play, they still have Jahlil Okafor and Nerlens Noel on hand. At the same time, this could make things even more tense as far as establishing who is the team's primary center.
Okafor and Noel have been in the trade rumor mill for some time. The Sixers could simply be waiting to test out Embiid's chemistry with Okafor, Noel, Ben Simmons, and others to determine what is the best course of action going forward. Their stock in Embiid will be determined by how efficiently he develops as he hits the floor for the first time this season, but that's a process they won't be looking to rush. In the meantime, the Sixers continue to have options. They'll be doing plenty of juggling as Embiid's progression is monitored throughout the season, which now also means keeping him from playing in back-to-back games on consecutive nights.