A year ago, Joe Harris reached the peak of his short NBA career when he qualified for the NBA All-Star Weekend 3-Point Contest championship against Stephen Curry. By this face off in February 2019, Curry was unanimously considered the best shooter to ever play the game. Harris' stage on this particular night — the Spectrum Center — is located in Curry's hometown of Charlotte, North Carolina. Needless to say, the Charlotte crowd, along with viewers watching around the world, were against Harris.
Then, he shocked the world:
Joe Harris goes perfect on his money ball rack and wins the #MtnDew3PT contest with a final round score of 26! #NBAAllStar #WeGoHard #StateFarmSaturday on @NBAonTNT pic.twitter.com/xw7WABBHeW

— NBA (@NBA) February 17, 2019
Going perfect on the "money ball rack" to finish the night capped Harris' unbelievable performance. And with the 2020 All-Star Weekend in Chicago fast approaching, Harris will be in a position to defend his crown in hopes of becoming the contest's first repeat champion since Jason Kapono in 2008. What makes Harris' success even more impressive is where he came from, and his unlikely path to the NBA that now has him in Brooklyn dawning a Nets uniform.
Harris grew up in rural Washington State, 180 miles due east of Seattle – the state's basketball kernel. He attended a small Washington Interscholastic Athletic Associate A (single A division, the lowest athletic designation in the sate) high school and set a plethora of school and state records in both scoring and offensive efficiency categories.
After leading Chelan High School to the state tournament as a junior and senior, he received widespread notoriety throughout the state. The headlines resulted in Harris receiving interest from then Washington State University Head Coach Tony Bennett. Bennett eventually offered Harris a scholarship, and he was interested in Washington State. But during Harris' senior year, Bennett was offered the opening at the University of Virginia. Harris was just a three-star recruit according to ESPN Recruiting, hardly the kind of profile needed for an Atlantic Coast Conference scholarship. But Bennett wanted Harris to cross the country with him, and Harris was committed to playing for Bennett wherever that might be.
He received an immediate opportunity to contribute, starting in 25 of the Virginia Cavaliers' 31 games and averaging 30 minutes of play. His defense and outside shooting, still the calling cards that define Harris' game today, were stellar for a freshman playing in the country's best conference. By the time Harris finished his four years at Virginia, his career three-point percentage was forty percent. His forty-eight percent accuracy on two-pointers was also notable.
Harris impressed so many in his senior season at Virginia that he began to draw interest from the NBA. Just five years after committing to Bennett as a three-star recruit, Harris was selected 33rd overall by the Cleveland Cavaliers in the 2014 NBA Draft. Two weeks later, LeBron James using the pen of then-Sports Illustrated reporter Lee Jenkins, detailed his plans to return to the Cavaliers. The next chapter in Harris' unlikely story was being written. He was joining a team favored to win the 2015 NBA Championship.
Unsurprisingly, Harris didn't receive a lot of minutes his rookie season. It was hard to find time in the backcourt with James and Kyrie Irving leading the way for the Cavaliers. Harris had a few highlights that season, the biggest of those coming in a game against the Atlanta Hawks, in which he scored 12 points. He also fouled out of the contest.
Harris' arrival to the NBA coincided with that of his new Head Coach David Blatt. The turmoil from that season, not only between Blatt and James but the rest of the players, was well documented by the national media. While this chaos didn't necessarily contribute to Harris' slow start that season, it certainly didn't bode him with ample opportunity to learn and grow in his role. The Cavaliers qualified for the NBA Finals against the Golden State Warriors, and Harris played a total of 12 minutes and 41 seconds in the Cavs' 20 postseason games.
Cleveland came up short in 6 games to the Warriors and, just a few months into next season, the team was struggling mightily. By January 2016, Harris was ending his season early to have surgery and the Cavaliers traded him to the Orlando Magic. The Magic immediately waived Harris, making him an unrestricted free agent. A week later, David Blatt was removed from his role as head coach of the Cavs.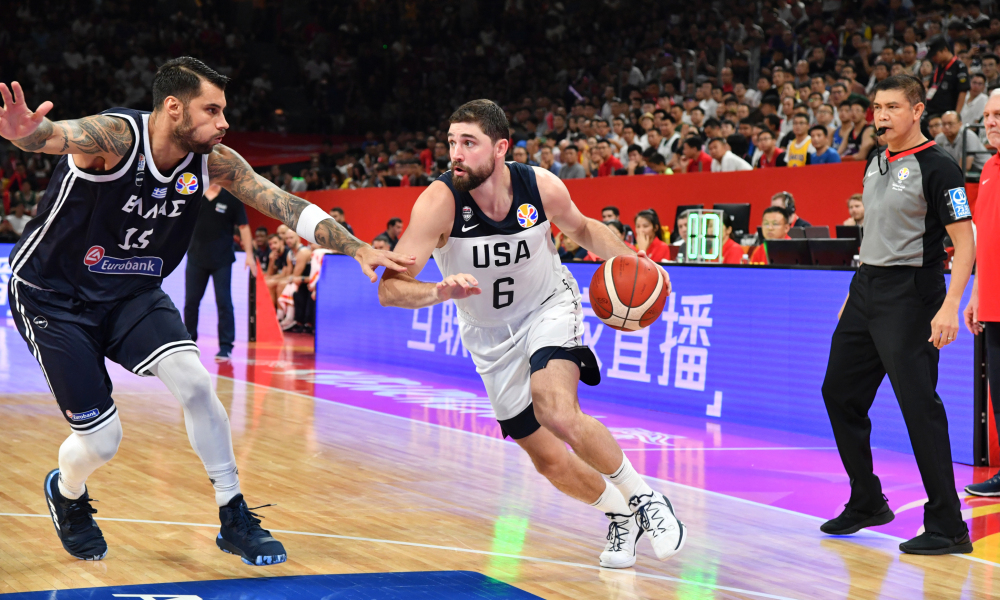 Harris spent the remainder of the season rehabbing, but there was a realistic possibility that his NBA career had ended before it began. Then, in July 2016, the Brooklyn Nets called. On July 13th, a week after Kevin Durant's announcement to depart for Golden State and the ensuing bonanza, Harris quietly signed a 2-year $2 million deal with the Nets. His NBA career, at least for the moment, was still alive.
Harris joined Sean Marks and Kenny Atkinson in Brooklyn looking to find steady minutes in the rotation. The Nets were coming off a 21-61 season in 2015-16. The organization was desperate to find some cheap, serviceable players who could contribute. Harris' calling card had always been his outside shooting, and he brought that skill set to Brooklyn from day one. In his first three full seasons, Harris shot 38.4%, 42.4%, and 47.7% from beyond the arc. Harris' 47.7% accuracy led the entire league last season. His shooting prowess was so well-respected that he was selected for the twelve-man roster to represent the United States at the 2019 FIBA World Cup in China.
Harris will certainly be selected to defend his crown at All-Star Weekend in February, with the opportunity to join an elite list of sharpshooters were he to win again. Only six players have ever repeated as champion of the contest, and just two have three-peated.
While the enticement of All-Star Weekend has waned rather dramatically over the last decade, there is reason to suspect that the three-point contest will be a dramatic affair next month. Harris will be on an invite list chock-full of newcomers and break-out stars making their All-Star Weekend debuts — Davis Bertans of the Wizards, Devonte' Graham of the Hornets, and Duncan Robinson of the Heat. Maybe even the possibility of including more big men — both Karl Anthony Towns and Jaren Jackson Jr. are shooting above 40% from beyond the arc this season — could diversity the competition further.
Without reflecting on Harris' journey, his success wouldn't stick out as unlikely. But those who know where Harris came from, and the odds he's overcome to find his place in the NBA know how special a story like his. Harris has accomplished a lot in his career – NBA draft pick, USA Basketball FIBA tournament selection, and potential two-time All-Star Three-Point Contest winner. Regardless of the names that appear on the final list, Harris is going to step on the court in Chicago and do what he does best — shoot his shot.