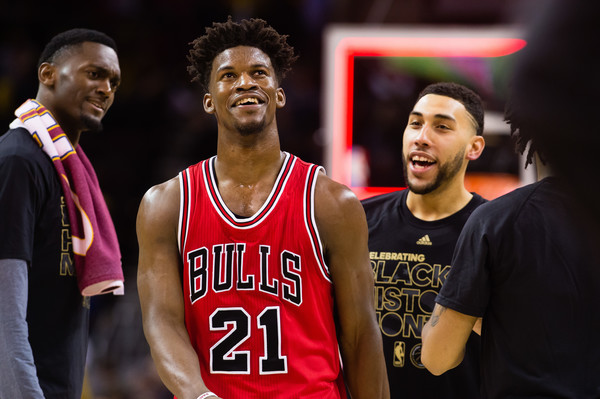 The trade rumors in the NBA usually ramp up as a player is headed towards free agency. His incumbent team most likely looks to either get something back when they send him out of town or secure an extension. If the player does survive the season, the extension comes and almost immediate trade rumors get shut down. That's usually how it goes unless your name is Jimmy Butler.
The Chicago Bulls wingman has been the subject of trade discussions for the just about the last three seasons straight. Butler signed his max extension in the summer of 2015, keeping him in Chicago over the next five years. But as the Bulls have been relatively mediocre, Butler has improved his already great game. He posted career highs almost across the board last season, similar to what he did the season before. He's a valuable player and teams have reportedly looked for his services.
The Boston Celtics, Los Angeles Lakers, Philadelphia 76ers and Atlanta Hawks have all thrown their name in the Jimmy Butler sweepstakes. But the 2016-17 season is over and he's still with the Bulls. So what's the deal? Does Jimmy want to leave Chicago?
Jimmy Butler was a guest on the Jimmy Kimmel Live show and Kimmel's NBA Finals special was full of NBA talk. Butler joined and talked about the Chicago Bulls, the rumors he's faced over the last two years and even the possibility of playing for the Lakers.
Butler wasn't only talking about trades and the Lakers with Kimmel. He also talked about how he lives and his house which features an insane fish tank that you have to see to believe.