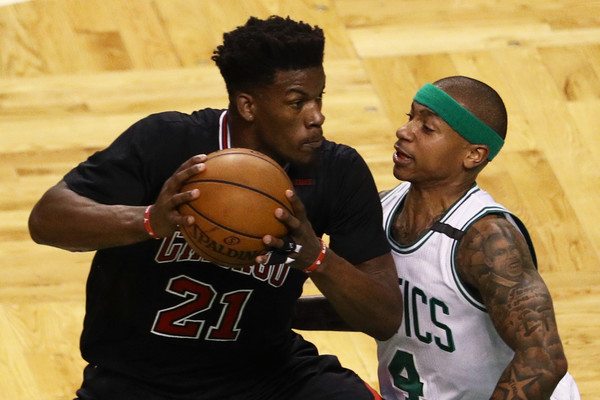 With a wild few days happening the NBA, Jimmy Butler and Paul George's names have been thrown around in multiple trade scenarios. Butler is used to this by now, as his name has been in trade talks for the past year. However, with the Cleveland Cavaliers seemingly trying to trade for him, he may now be trying to get the Chicago Bulls management to trade him to Cleveland, per Joe Cowley of Chicago Sun-Times. 
One of the sources indicated that Butler would even push his front office to get the deal done, which is a huge change of direction for Butler, who has told both general manager Gar Forman and vice president of basketball operations John Paxson numerous times over the last year that he didn't want to be traded.
Jimmy Butler's name has so far been linked to the Phoenix Suns, Boston Celtics, and Cavaliers. With the Cavs losing David Griffin, there's a lot of unknown in Cleveland's front office right now.
If Jimmy Butler really does want to team up with LeBron James and company, though, he can pull a Paul George and force Chicago's hand. The only difference between George and Butler is that Butler has two years remaining on his contract, while George has one season left with the Indiana Pacers.
If the Cavaliers are able to make a trade with the Bulls for Butler, they will almost have to bring in a third team due to not having enough assets. It's not likely the Bulls will just take Kevin Love in return for their franchise player, so a team like the Suns could be brought in as a third team to help with their young talent and draft picks.
The draft is on June 22 and free agency starts on July 1, so the NBA and their fans are in for another couple weeks of wild rumors.