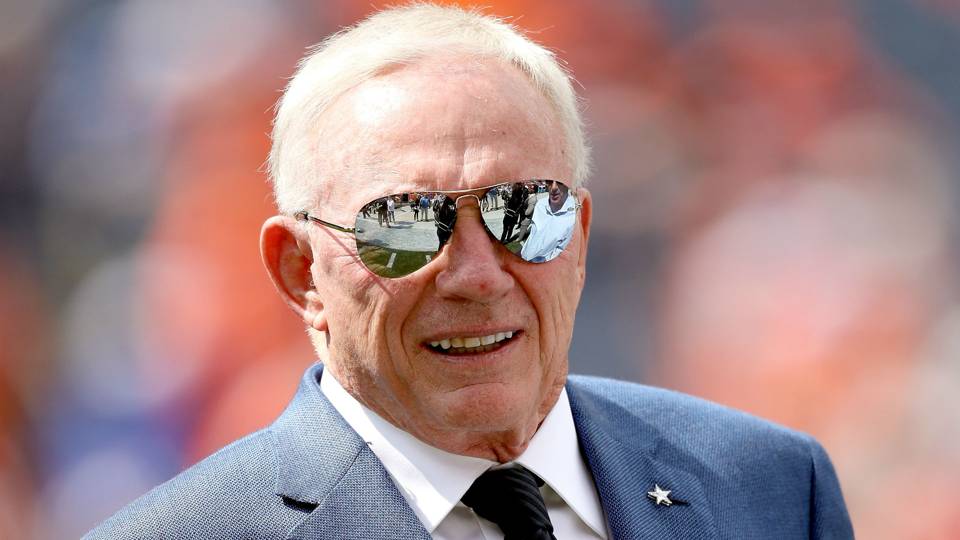 The feud between Dallas Cowboys owner Jerry Jones and NFL commissioner Roger Goodell appears to be on the mend. Or at least tensions have cooled pretty significantly since the Ezekiel Elliott situation achieved resolution.
Though the NFL was ultimately successful in its effort to suspend Elliott, the process of doing so drug out longer than most expected, dating back to before the start of the season. The suspension was overturned and reapplied multiple times, leaving many – including Jones – frustrated with the NFL and Roger Goodell.
Jones never explicitly admitted that the suspension influenced his decision to question the merits of Roger Goodell's contract extension (that's reportedly worth almost $50 million a year), but it's not hard to connect the dots.
How much support does Jerry Jones have in his fight against Roger Goodell's contract extension? @SethWickersham explains on @SI_PeterKing's podcast https://t.co/ZzrjMFwHOp pic.twitter.com/aGEfj8Glo5

— The MMQB (@theMMQB) November 24, 2017
Atlanta Falcons owner Arthur Blank, who's also chairman of the league's compensation committee, got involved in the matter by advocating approval of the new extension for Goodell, which led to a bit of a war of words between Blank and Jones. However, it was Blank who Jones sent a letter to in which he stated his intention to support the commissioner's new contract now.
In the middle of all the back-and-forth, Jerry Jones actually threatened a lawsuit against the league in an attempt to stop the new Goodell deal. However, that is no longer the case. Jones has rescinded those threats. At one point, word even began circulating that other owners were making their own threat against Jones. That being the league's other owners could strip Jones of his ownership of the Cowboys. It now looks like all sides were guilty of making empty threats.
All indication points to the deal now getting done with no more opposition, even if some owners did side with Jones. In fact, the terms of the extension have been agreed upon since May. However, the deal faced a few roadblocks between then and now – mainly Jones' opposition. With the path cleared, all parties are expected to sign the pact and the extension should become official in the near future.