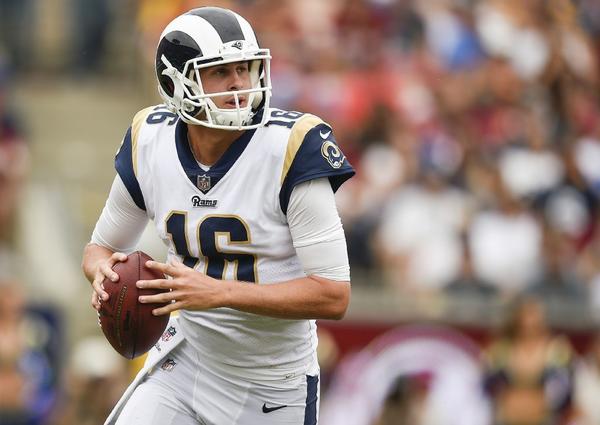 For most of the season, the Rams offense was a bit of a juggernaut. Sean McVay's offense appeared to have an answer for everything. Until it didn't. But it's quarterback Jared Goff that is accepting blame for L.A.'s lackluster offensive performance in their Super Bowl defeat to the New England Patriots.
"I'm mad at myself, I wish I would've done things differently, I wish I could've made extra plays. But all stuff I can learn from and use moving forward." – Jared Goff pic.twitter.com/99ti3t9TVM

— Los Angeles Rams (@RamsNFL) February 4, 2019
Further, Goff offered some candid quotes to NFL.com's Mike Silver, saying, "It wasn't a game we needed 30 points to win. We needed two touchdowns, and I couldn't get it done. That's on me. I'm the guy who has to drive this offense."
Over the course of the regular season, L.A.'s offense scored the second-most points in the league. Only the Kansas City Chiefs scored more. So putting up a single field goal in the season's biggest game had to be disheartening. Even though Goff's quotes would lead one to believe he's taking all the blame, there were certainly more aspects at play than Goff alone.
For the game, the Rams QB finished 19-38 for 229 yards and one interception. Uncharacteristically, L.A.'s offensive line was especially leaky, too. Goff was sacked four times that resulted in 31 yards lost. In the Rams' 16 regular season games, the 24-year-old quarterback was sacked a total of 33 times.
Goff enjoyed a spectacular season on the whole. He finished the regular season with a 101.1 QB Rating and led the Rams to four fourth-quarter comeback wins. But, unfortunately for him. the lasting memory will probably be the three-point effort in Super Bowl LIII.