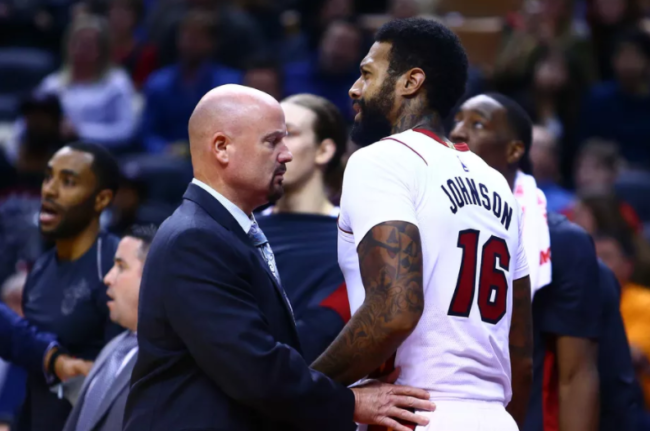 Toronto Raptors big man Serge Ibaka and Miami Heat forward James Johnson have each been suspended one game for their involvement in an altercation during Tuesday night's game, the NBA announced.
Johnson and Ibaka exchanged punches in the first half of the game, which was eventually won by Miami, and were subsequently assessed technical fouls and ejected. The players had to be separated and were escorted to their respective locker rooms with security present.
Serge Ibaka vs James Johnson ??? pic.twitter.com/F61fY07ZMU

— Def Pen Hoops (@DefPenHoops) January 10, 2018
James Johnson will serve his suspension tonight against the Indiana Pacers. Ibaka will serve his in the Raptors' home game against Cleveland on Thursday night.
Raptors guard DeMar DeRozan and Heat guard Goran Dragic were fined for their incident postgame, which saw the two engage before DeRozan attempted to swing at Dragic.
Tempers flare between DeMar DeRozan and Goran Dragic after the Ellington game-winner pic.twitter.com/o0ULvgUX4u

— Def Pen Hoops (@DefPenHoops) January 10, 2018
DeRozan was fined $25,000, while Dragic was fined $10,000. Both players will be available to play in their next game.
Johnson has taken a step back production-wise this season for the Heat, but remains an integral piece of the team's rotation plans moving forward. Ibaka, a two-way power forward who's played fairly well this season, has drawn trade interest in recent weeks from at least two clubs.