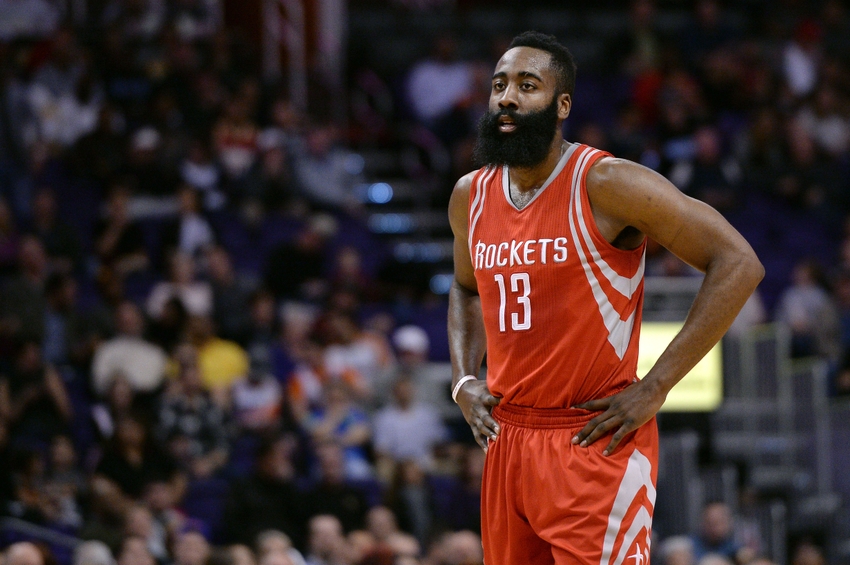 At the Houston Rockets' media day on Monday, head coach Mike D'Antoni Told ESPN's Calvin Watkins that star shooting guard James Harden will make the transition to point guard (even though it really won't be much of a transition at all):
Houston Rockets coach Mike D'Antoni said Monday morning that shooting guard James Harden is changing positions.

He's becoming a full-time point guard. "With James you make a joke he's a 'points guard' because he's going to score some points," D'Antoni said.

Under the new up-tempo offense, D'Antoni has decided to put the ball in Harden's hands more than last season, like a traditional point guard, to get opposing defenses off him in the half court. It should also allow Harden to become more of a playmaker.

…

"He's more or less responsible giving rhythm to the team, that's what a point guard does," D'Antoni said. "He's going to be on the ball and he's going to be distributing the ball and it will take some adjusting. He's got a lot more responsibilities as a point guard. A playcaller, a good basketball mind, he's already telling guys we can do this we can do that."

Harden said he expects shooting guards to continue to guard him and that this new role will help move the offense by spreading the floor.

"Just a lot of trust. My teammates trust in me to make the right decision whether its scoring or whether its making a play," Harden said. "We have a lot of guys who are more than capable to create and knock down shots and that's what is going to open our floor. A lot more guys are going to get open shots left and right."
Harden has essentially been running the point since the Rockets acquired him in 2012. This season, I would venture to guess that he'll still line up as a shooting guard; Patrick Beverly, the "point guard" is the ideal three-and-D player to pair with a ball-dominant player like Harden. Harden will, of course, be the one with the ball in his hands. It sounds like the primary difference is that Harden will look to distribute the ball a bit more. Perhaps we could see him average nine or 10 assists?