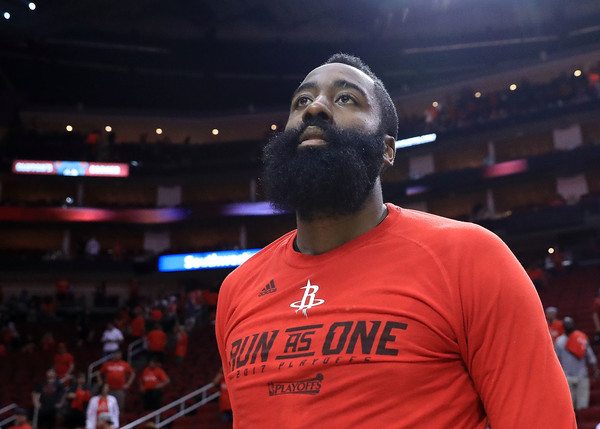 Five-time All-Star and MVP candidate James Harden recently made an interesting comparison pertaining his old Oklahoma City Thunder roster, and likened them to his current Houston Rockets team. What makes this speak volumes is the fact that Harden was a key player on both championship-caliber teams.
Selected third overall in the 2009 NBA draft, Harden showed signs of early struggle his first season, where he posted averages of only 9.9 points on 40.3% shooting from the field. Despite his early struggles, Harden would ultimately go on to win the Sixth Man of the Year award in the 2011-12 season, where he was also a pivotal part of a potent Oklahoma City Thunder roster that earned an NBA Finals berth.
In an attempt to put into perspective what his current roster is capable of in terms of depth and capability, Harden chose to go in the route of comparing the modern day Rockets to the 2011-12 Oklahoma City Thunder.
"Both teams are similar in terms of talent and depth, a mixture of vets and young guys. Both are very, very, very talented," Harden told Vice Sports. "Now, obviously, the difference is we were younger back then, but both are good.
Harden certainly brought up a great point in terms of the versatility and depth of the two teams. The modern day Rockets possess players such as Ryan Anderson who are capable of stretching the floor out to the three point line, allowing a player like Harden to operate easier in iso sets. Harden's old Thunder crew had both Serge Ibaka and Kevin Durant, two players that provided versatility offensively, while also stretching the floor and utilizing their length.
The 2012 Thunder crew also finished top three in total points scored that entire season as a cohesive unit, and produced an offensive rating of 109.8. The 2016-17 Houston Rockets scored even more points as a collective unit than the 2012 Thunder, sitting at second in the league. Harden's Rockets also produced a higher offensive rating than the 2012 Thunder team, where they sat at 114.7 in that respect, which speaks volumes Mike D'Antoni's high-paced offense and potent scoring abilities as a team.
Defense was another strong suit for the 2012 Oklahoma City Thunder crew. They ranked top five in opponent field goal percentage that season, forcing their opponents to shoot a low 42.7% from the field. The 2017 Rockets finished just outside of the top 20 in opponent field goal percentage, where they let opponents shoot 46.3% from the field as a team.
While many can debate which team is better, the reality is that the Thunder captured an NBA Finals berth, whereas the Houston Rockets have yet to play with one another, particularly Chris Paul and James Harden. Which team do you guys believe to be the better team overall? Let me know what you guys think via Twitter, @MoTalks98.