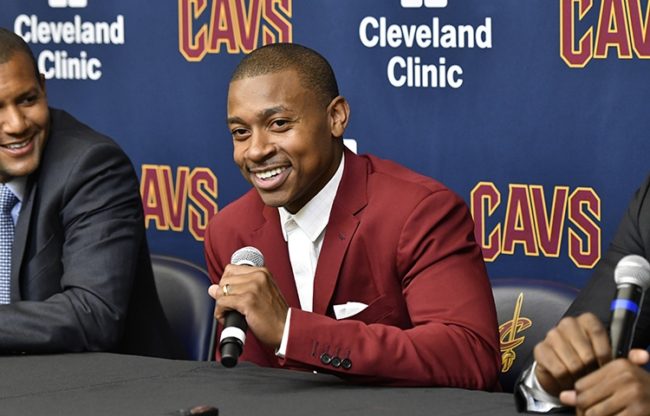 Cleveland Cavaliers guard Isaiah Thomas continues to rehab from a hip injury that has sidelined him for the start of the 2017-18 season, inching closer and closer to his eventual return every single day. The Cavs have struggled without him on both ends of the floor, starting the season with a disappointing 5-7 record though 12 games.
While Thomas may not add much on the defensive end, what he adds on offense will surely give the team a much-needed boost once he returns to the court.
"It's been frustrating because I know where I can help at," Thomas said, according to Joe Vardon of cleveland.com. "Not just scoring and making plays, but, being that leader, being that voice out there and holding everybody accountable. Not saying that guys aren't doing that, but I know where I can help at, in so many ways other than just scoring the basketball. And I think I could really put pressure on the defense.
"We don't have nobody really who's been able to get in the paint and make a play and keep the defense on their heels and get to the foul line and things like that, so I think there's so many areas that I can help in and, I'm just, I'm impatient but I've got to be patient," Thomas continued. "I hope I'll be out there real soon."
The Cavaliers and Thomas are hopeful he can return by mid-January at the latest. The possibility of him returning before 2018 has not been ruled out, as he returned to doing pregame work this past week for the first time this season.
With the missed time comes rustiness, and Thomas understands that. He has never played a game in his NBA career with LeBron James, excluding your yearly pick-up style All-Star Games, but he believes he'll adjust to playing with LeBron rather quickly — at least quicker than 'somebody else could', as included in the article from cleveland.com.
"It's definitely going to be an adjustment period, but me being older, me knowing the game a little bit more and being a student of the game, I'm going to be able to adjust quicker than somebody else could," Thomas told Joe Vardon of cleveland.com.
Whether Thomas is speaking purely figuratively or potentially relating to another point guard who played alongside LeBron James is unknown. Perhaps, you never truly know, that other point guard could be playing in Massachusetts right about now.