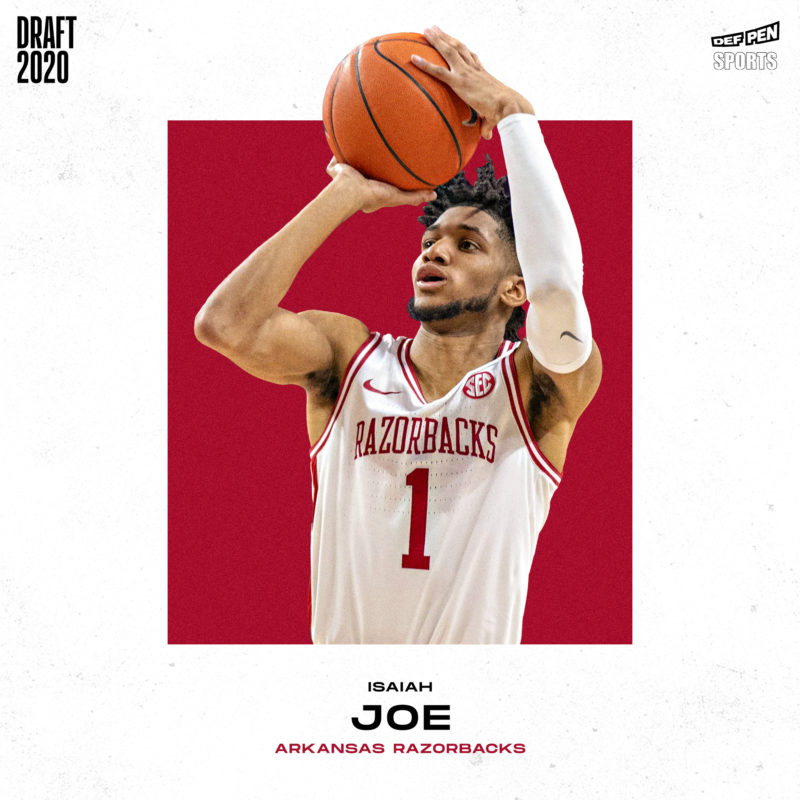 After a wild back and forth over the last two seasons, Isaiah Joe is headed to the 2020 NBA Draft. After his freshman year last year, Joe dipped his toes in the water only to return to Arkansas under new coach Eric Musselman. The young guard improved upon his abilities and is now poised to be drafted in the first round. Arkansas is trending more positively lately and talent may start flowing out of Fayettville soon enough. Joe has skills and talent that make him a valuable player at the next level. With enough development, Joe could go to a team on a good deal.
Pull Up Jumper
Joe is a modern NBA player. Averaging almost 10 three-point attempts every 36 minutes, his play will fit in well with the new NBA. A quick release and offensive awareness allow him to pull up almost better than the rest of his draft peers. He used that quick pull up and his love of the deep ball to put up 16.9 points a game on 36.7% from the field and 34.2% from three.
Joe can get open on the perimeter for an outlet pass or he can drive the ball and create the shot for himself within the arc. Joe is going to be strong in isolation situations due to this skill. Watch for his team to get him open and try to create scoring opportunities through him.
Isaiah. Joe. Gets. Buckets.#SECInside: @RazorbackMBB pic.twitter.com/aSqNH0nPT0

— SEC Network (@SECNetwork) January 28, 2020
Off-Ball Offense
Joe doesn't just throw up shots from forty, he knows how to operate without the ball too. While playing off the ball at Arkansas, Joe showed off decent speed and his basketball IQ. He knows how to find his open looks and demand the ball to get them off. He also has a wonderful ability to slash into the paint when needed. At 6'5″ he has the height to go above a lot of defenders in the paint.
Running behind screens and coming off tight corners around other players get Joe out in the open for big shots. His ability to run screens off-ball is going to translate to the NBA very well. As an offense-minded two-guard, Joe is going to have an offensive game that is league ready.
Defensive Ability
Joe is a good defender. His 6'10" wingspan as well as his intuition on defense lets him get in passing lanes and come up with steals from lazy players. If the opportunity arises he can switch onto a variety of players. He will guard ones, twos, and threes from time to time and shouldn't have an issue switching. His rotational ability allows his team defense to really shine and he makes up for mistakes that teammates might make.
A lot of the defensive side of the ball needs to be focused and worked on for Joe to take it to the next level. However, he has the tangibles necessary to be a very good defensive player.
Weaknesses
There is some hope that he will be able to put on mass. At 180lb now, he is a little skinny. Joe takes gambles on offense and defense which don't necessarily mean turnovers. It does mean he can get beat off the dribble after swiping for a steal or picking up a weak foul. While his pull-up jumper is a great strength, sometimes he overplayed his hand with it. Instead of kicking an outlet pass, he would much rather shoot over a defender and take his chances. Being able to control his game will be important.
2020 NBA Draft Comparison: Anfernee Simons
Anfernee Simons may be an inch shorter and just have a tad smaller wingspan, but the comparison is a decent one. Both Simons and Joe rebound well out of their position and focus on scoring first and foremost. Simons was brought to the Portland Trailblazers as a long-term project on a prospect that needs longer to develop than usual. Joe could be a project player worth investing in. Guys who score like Simons and Joe will always be welcome in the NBA though. Joe, much like Simons has a decently high ceiling and could develop into a good player in the league. Some team in the 2020 NBA Draft is going to get a good player on offense.