One misspelling might change many things in the career of one rookie, because it appears that the newest NBA nickname has been created.
Two nights ago when the Sacramento Kings and Philadelphia 76ers faced off there was a moment in the game when Kings rookie guard Nik Stauskas took the court. Stauskas might not be having the greatest of rookie seasons for the Kings sitting cozy deep on the bench but last night, there was a glimmer of hope as a gread A nickname was made.
One fan pointed out something that he saw pop up on his screen. It appears that on the closed captioning, you know that little black box that spits out words on your TV usually positioned annoyingly right in the middle of the TV or in my experience, right over the score at the bottom of the screen.
Closed captioning is used to put words on your screen for a few reason. You're either enjoying the game with the television on mute either due to being deaf or just for fun or peering over a beer glass at some local bar when it might be too loud to hear so you read the words. Well this Sixers fan watching the broadcast caught a moment that Stauskas himself may never forget.
My closed captioning just referred to Nik Stauskas as "Sauce Castillo" and I will never be able to not call him this again

— Andrew Unterberger (@AUgetoffmygold) March 25, 2015
@JakePavorsky @russbengtson Usually watch games w/ mute on so I can listen to music at same time for my job. Reason why I saw it that night.

— Andrew Unterberger (@AUgetoffmygold) March 26, 2015
So this is the birth of the nickname and thanks to a screen cap by Deadspin, there is actual proof of the new nickname.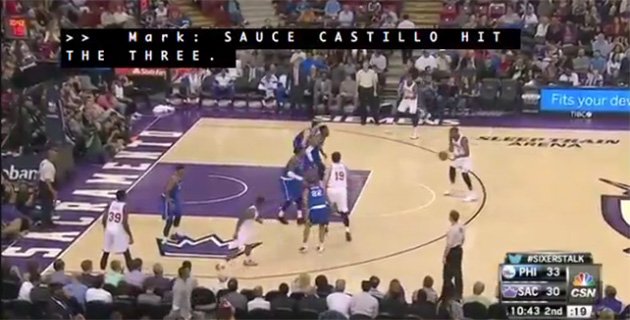 That's a real thing. It's so real that it became the new thing on twitter for a little bit.
Sauce Castillo? Sounds like the anti-hero of Robert Rodriguez or Tarantino film! Teatro de Los Reyes! @NStauskas11 pic.twitter.com/XOtRwWh6Ms

— Shera Starr Oliveria (@starr_rakh) March 26, 2015
.@NStauskas11 I already have a vision when the Kings return home on Friday, April 3rd vs the Pelicans. #SauceCastillo pic.twitter.com/G1RwgnVum8

— Jenman Fong (@Jenman27) March 26, 2015
#SauceCastillo @NStauskas11 pic.twitter.com/wgmNg3HLtU

— Bradley Geiser (@therealbradg) March 26, 2015
It's even made its way to the Kings organization.
Kings' CEO confirms merchandise.
#SauceCastillo merchandise??? Um….definitely. #SacramentoProud

— Chris Granger (@cgkings) March 26, 2015
Kings' radio play-by-play announcer and PA announcer welcome this new nickname.
Unsubstantiated report: reason the bear got caught in the tree….too much Sauce Castillo!!

— Gary Gerould (@ggerould) March 26, 2015
"DEMARRRRRCUUUSSSSSSS COOOOUUUSSSSSSINNNNNNSSSS… The assist: Sauce." #SauceCastillo

— Scott Moak (@AnnouncerScott) March 26, 2015
And the team itself even loves the new nickname for their rookie guard.
Sauce Castillo spins and wins! ???????? https://t.co/CY54L0aJtQ

— Sacramento Kings (@SacramentoKings) March 26, 2015
What about the players?
Stauskas is beside himself.
Wait what does "Sauce Castillo" mean? Since when was that my nickname lol!! ????????

— Nik Stauskas (@NStauskas11) March 26, 2015
Lol this Sauce Castillo thing escalated way too quickly!!!

— Nik Stauskas (@NStauskas11) March 26, 2015
And now Stauskas is stuck because he is a rookie on the Kings and well, unfortuneately for him, the players on the team are taking this and running.
Hi Sauce Castilio, good game last night. Now make sure you bring some donuts to the bus. Thanks. @NStauskas11

— Omri Casspi (@Casspi18) March 26, 2015
Me and my Rook, #SauceCastillo!! ???????? pic.twitter.com/hVWm4oLmQq

— Jason Thompson (@jtthekid) March 26, 2015
Hopefully Stauskas' career will amount to more than just this nickname. It will definitely be fun though if he does succeed and takes this name with him because there is no way that this will be shaken off easily, by anyone, especially the Sacramento fans.
(H/T Bleacher Report)