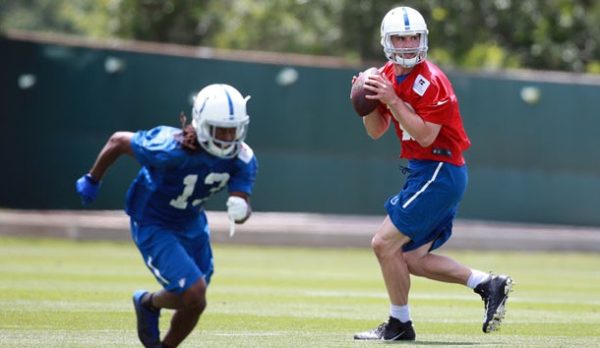 The Indianapolis Colts weren't very busy this offseason and kept most of their coaching staff despite the rumors Chuck Pagano would be fired. Keeping Andrew Luck healthy is priority number one and Indianapolis took care of that with first round center Ryan Kelly. Are the Colts contenders or pretenders in 2016?
3 Position Battles To Watch:
Guard: Hugh Thornton vs. Denzelle Good vs. Joe Haeg
Thornton is the current starter and is currently in a contract year. Rookie Joe Haeg probably has the most talent but probably won't have the chance to start at either tackle position.
2. Inside Linebacker: Nate Irving vs. Sio Moore vs. Antonio Morrison
Jerrell Freeman is off to Chicago leaving the inside linebacker spot wide open. Irvining has some starting experience with Denver and Sio Moore was acquired in a trade with the Raiders but in highly inconsistent. Morrison has some tools as a 4th round pick to make an impact. D'Qwell Jackson will man one of the two inside linebacker spots.
3. Defensive Line: Hassan Ridgeway vs. David Perry vs. Kelcy Quarless
Arthur Jones is suspended for PED's and Kendall Langford is the only proven starter. Perry and Quarless showed some flashes as rookies while Ridgeway will try to make his mark as a rookie this year.
Ready To Breakout: Donte Moncrief
I have a feeling Moncrief will be on a lot of my fantasy teams this season. A wide outs third season is usually when he usually really gets comfortable with the full route tree. I expect Moncrief to develop into a real possession receiver for Indy and will get a lot of chances with Andrew Luck back in action.
Fantasy Sleeper: Josh Ferguson
Frank Gore is about 800 years old and can't last forever. Ferguson is an undrafted rookie who at the very least will play a role in the passing game. Some have linked him as a potential Dion Lewis.
Rookie To Watch: Ryan Kelly
I'm not sure there is a more polished rookie day one than Ryan Kelly. The former Bama center is probably an all pro center from day one.