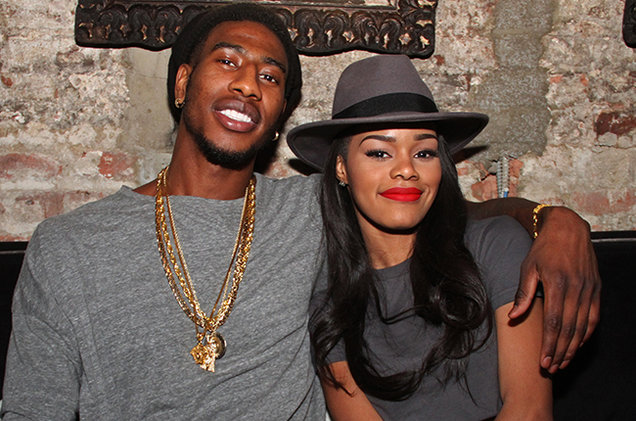 Known as one of the more flamboyant personalities in the NBA, Cleveland Cavaliers guard Iman Shumpert has always had passions outside of the game of basketball. Whether it be rapping, acting, or modeling, the 27-year-old Shumpert has never limited himself to one category of celebrity.
Now as Shumpert advances into the prime of his NBA career, the shooting guard is also taking major steps in the entertainment industry.
According to Deadline's Nellie Andreeva, Shumpert and his spouse Teyana Taylor are set to star in upcoming VH1 reality series called 'Teyana & Iman':
VH1 has formally greenlighted Teyana & Iman, a new reality series starring R&B singer-actress-model Teyana Taylor and Cleveland Cavaliers guard Iman Shumpert. It's set to premiere on February 19.

Teyana & Iman follows newlyweds Taylor and Shumpert at New York Fashion Week, where Taylor was a fixture on the runway, walking the 2017 MTV VMAs red carpet, raising their baby daughter Junie and spending time as a family.

Teyana & Iman is executive produced by Iman Shumpert and Teyana Taylor. David Goldberg, Caroline Baumgard, Ted Iredell, Perry Dance and Billy Kemp are executive producing for Banijay Studios.
With how much attention the Cavs have received due to being a marquee franchise thanks in large part to the return of LeBron James years ago, Shumpert's show should enjoy success. Shumpert himself is one of the more polarizing figures in the NBA as the once-promising guard has fizzled into an inconsistent role player.
Shumpert and his high-profile wife Teyana Taylor recently married in 2016 and parent a 2-year old daughter together. Taylor is a highly successful musician and model in her own right so the two make for an intriguing couple, one that millions will likely watch once their show launches on February 19th.