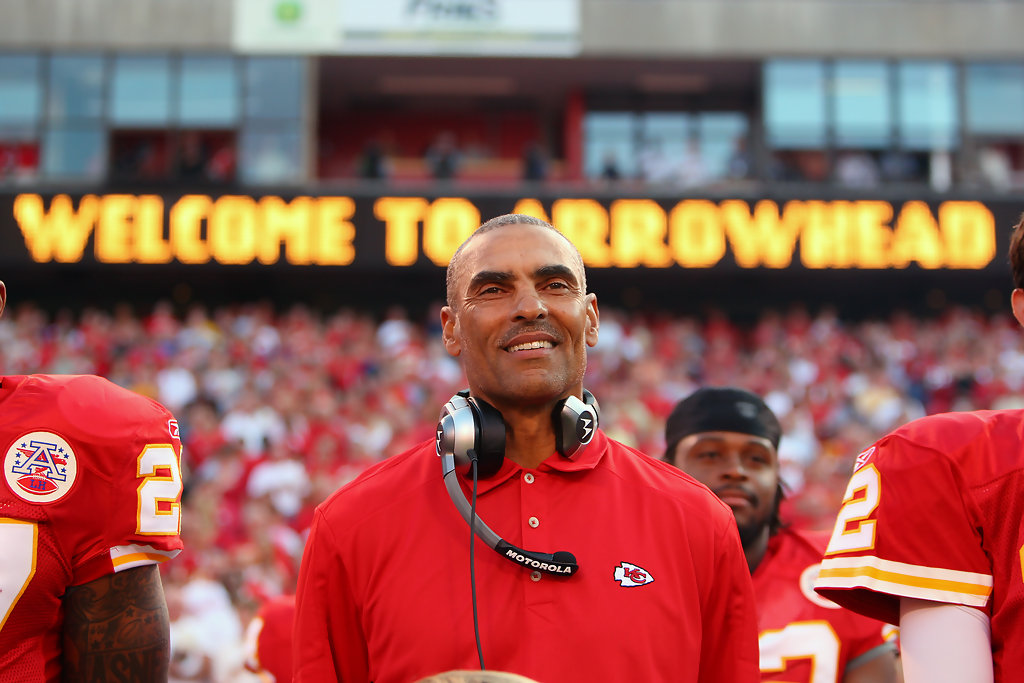 The last time Herm Edwards graced the sidelines as a coach for a football team was back in 2008 with the Kansas City Chiefs. Shortly after he was hired as ESPN to be part of their NFL coverage team, seemingly putting an end to a potential return to the sidelines. But almost a decade after he last coached in the NFL, Edwards will be making a return to the coaching ranks but with a college team. The Arizona State Sun Devils have hired Herm Edwards to be their next head coach.
The team made the announcement official on Sunday night.
Arizona State University and Vice President of University Athletics Ray Anderson has unveiled plans for a restructured ASU football model and named former NFL head coach Herman Edwards as the 24th head coach of Sun Devil Football, pending approval by the Arizona Board of Regents.

The department's New Leadership Model will be similar to an NFL approach using a general manager structure. It's a collaborative approach to managing the ASU football program that includes sport and administrative divisions, which will operate as distinct, but collective units focused on elevating all aspects of Sun Devil Football. This structure will allow the department to form a multi-layered method to the talent evaluation and recruiting processes, increase its emphasis on both student-athlete and coach development and retention, and provide a boost in resource allocation and generation.

"Our goal for this football program is to reach unprecedented heights, and therefore we need to find a way to operate more innovatively and efficiently than we have in the past," Anderson said. "In the spirit of innovation, our vision for this program is to have a head coach who serves as a CEO and is the central leader with a collaborative staff around him that will elevate the performance of players and coaches on the field, in the classroom and in our community. Equally important, the head coach will be a dynamic and tireless recruiter."

Edwards, who will oversee the New Leadership Model, arrives in Tempe with a football legacy that has impacted thousands, whether as a player, coach, analyst, motivational speaker and author, or community advocate and philanthropist.
Edwards racked up a 54-74 record as a head coach in the NFL with the New York Jets and Kansas City Chiefs. He has a 2-4 postseason record never making it further than the Divisional round game.
For the past eight years Edwards coached at the Under Armour All-American game which showcased some of the top high school football talents from across the country. Does that mean Edwards has an in with younger generation of players? Only time will tell with his results in recruiting and in the standings.
The history of coaches going back to the college ranks after a stint in the NFL is varied. Several notable recent instances have different levels of success on both sides.
Nick Saban has seen nothing but success since leaving the Miami Dolphins to coach the Alabama Crimson Tide. Since 2007 Saban has four National Championships building the power house of college football.
Pete Carroll's coaching career began in the mid-90s as the head coach of the New England Patriots where he racked up a 27-21 record with two playoff appearances. He headed to USC and saw almost a decade of success at the school complete with two National Championships. His re-debut in the NFL back in 2010 saw him take over the Seattle Seahawks and he's been found success with the team only missing the postseason once, appearnig in two Super Bowls and winning one Super Bowl in 2013.
Lovie Smith signed on to coach Purdue after coaching the Tampa Bay Buccaneers for two seasons following his successful run with the Chicago Bears. Smith has gone 5-19 in his two seasons with Purdue including a 0-9 conference record this past season.
Bill O'Brien has the distinct honor of being named the head coach of the Penn State Nittany Lions following the exit of longtime head coach Joe Paterno. After two seasons with the Nittany Lions under NCAA sanctions due to the child sexual abuse scandal, O'Brien left State College to join the NFL head coaching ranks. O'Brien is currently in his fourth season with Houston and he recorded a 9-7 record for three straight seasons including two postseason trips.
Lane Kiffin coached the Oakland Raiders for 20 games across two seasons in 2007 and 2008 racking up a 5-15 record with Oakland. He was at the helm for a 7-6 Tennessee team in 2009 before leaving for USC. Kiffin went 28-15 with the Trojans before being fired following a 3-2 start in 2013. Kiffin then went back to be a coordinator under Nick Saban at Alabama for three years before heading to FAU this past season, their first double digit win in school history and first bowl game appearance since 2008.
Chip Kelly recently was named head coach of the UCLA Bruins after he took time off following his departure from the San Fransisco 49ers. Kelly went 28-35 in his time as NFL head coach with the Niners and Philadelphia Eagles but his NCAA mark stands at 46-7 during his four years as head coach of the Oregon Ducks including a trip to the National Championship game in 2010.