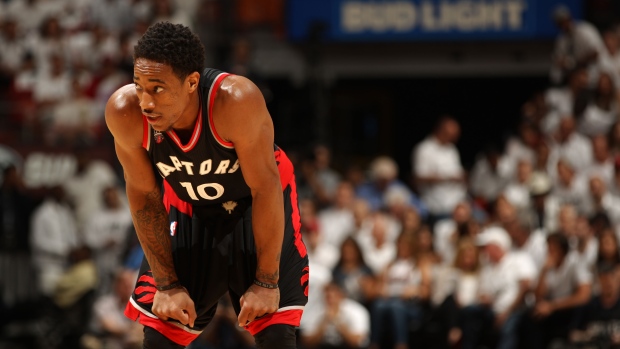 Several teams are expressing interest in Toronto free agent DeMar DeRozan, according to Sam Amick of USA Today:
As for DeRozan, he has plenty of options on hold as well. The Lakers, who could wind up getting a meeting with DeRozan, in part, because he still resides there during the summer, are widely known to be very interested in making him part of their young core. The Clippers, Golden State Warriors, Miami Heat, New York Knicks, and Orlando Magic are also hoping to lure him stateside.
Averaging a career-best 23.5 points per game for Toronto this past season helped solidify DeRozan's status of being among the league's best two guards. Derozan, an explosive shot creator that can score 30 points on any given night, is expected to receive a hefty contract this summer.
The expectation in NBA circles is DeRozan will re-sign with the Raptors on a five-year, maximum salary deal early in free agency. But, according to Amick, DeRozan could be considering taking a pay cut to aid the Raptors in bringing back Bismack Biyombo.
As for the known interested suitors, a basic interest is likely to permanently stand. As previously reported, DeMar DeRozan is not expected to meet with any other teams except Toronto in free agency. Once July 1st arrives, his only priority is negotiating new contract with the Raptors. Barring an unexpected break down in talks between the two sides, a deal will get done early on.
For the Lakers, their interest in luring DeRozan to his home-state is long known. The Clippers would likely have to send away pieces to obtain DeRozan, Miami could be prepping for a Plan B if Hassan Whiteside and Luol Deng go elsewhere, and Golden State is simply Golden State. They're searching for talent, top to bottom.
As for Orlando, they hope to sign a veteran this summer. Chandler Parsons is on their list, and now it appears they've added DeRozan, as well.
And then there's the Knicks. After trading for Derrick Rose last week, it seems they're one piece away from contending in the East. They hope to lure some of Kevin Durant, Joakim Noah, Dwideght Howard, Gerald Green, and Jamal Crawford to their roster. Should they strike out on their top names again this July, DeRozan could be an option if his talks with Toronto stall.
Despite the mass interest in DeRozan, he's likely staying with Toronto and backcourt partner Kyle Lowry. The Raptors, a team on the rise that went 56-26 this season, went on to lose to the NBA Champion Cleveland Cavaliers in the Conference Finals. They hope to avenge this loss, and, in search of payback, expect them to return in October just as dominant as we've ever seen them.
They're gonna do everything they can to re-sign DeRozan, and that interest certainly appears mutual.