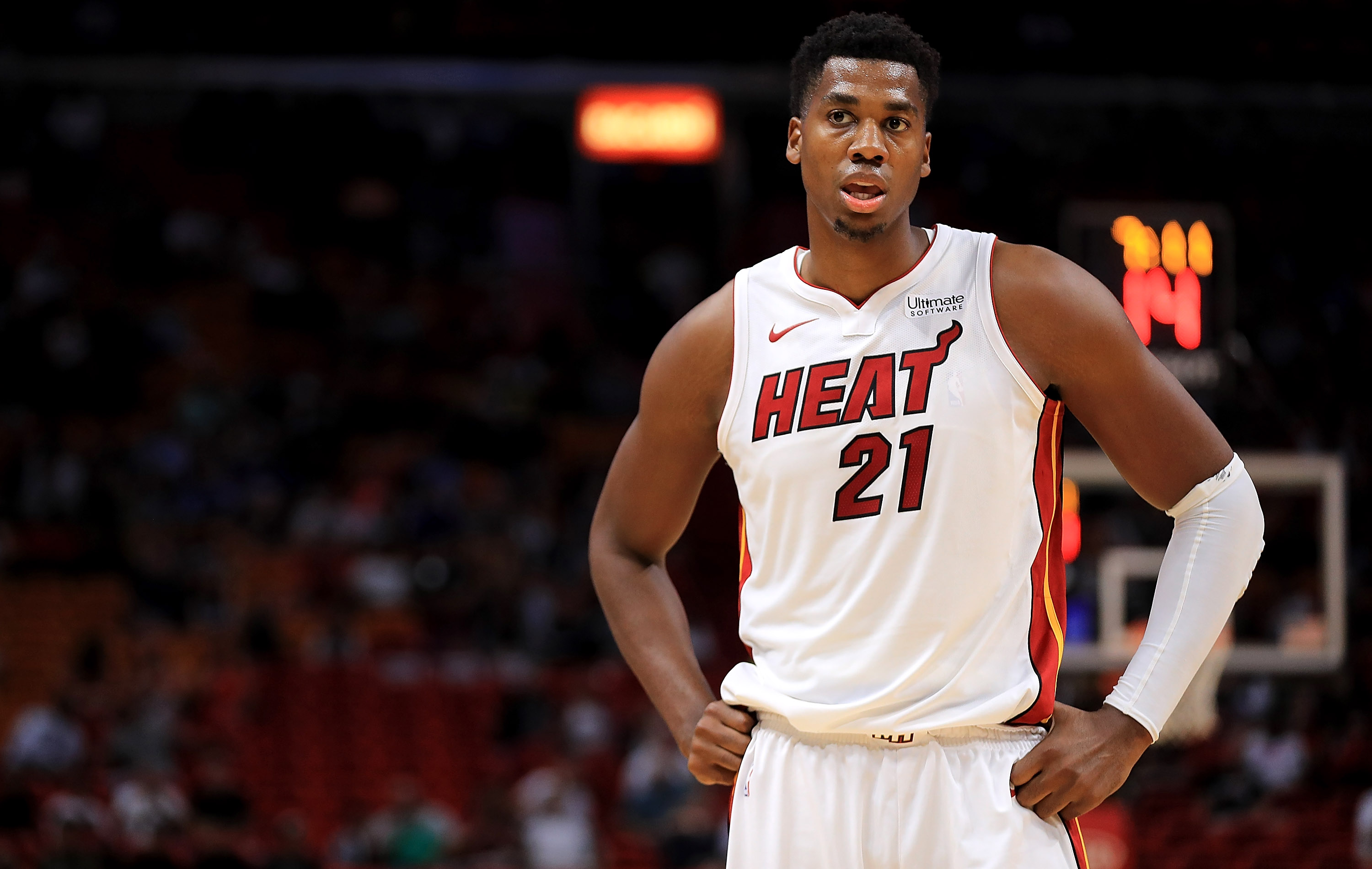 One of the most perplexing and difficult situations to figure so far during these young playoffs has been the playing time and usage of Miami Heat center Hassan Whiteside.
Though Whiteside is one of the Heat's better two-way players, his lack of a polished offensive repertoire and inability to guard shooters on the other end rendered him almost completely useless in Miami's first-round series against the 76ers.
Head coach Erik Spoelstra saw Whiteside struggling and made the adjustments, deploying backup Kelly Olynyk substantially more than Whiteside. Whiteside was visibly not happy about this during the series and now with the season concluded, the veteran center is unsure about his future in Miami. Following from Miami Herald's Barry Jackson:
Asked what most frustrated him from a team perspective, Whiteside cited his own issues with playing time.

"Not being out there," he said. "Not being out there. At least give me a chance to fight. At least give me a chance to fight. I can understand if I was playing 30 minutes and I played bad. At least give me a chance…"

Asked if he planned to discuss his situation with Heat president Pat Riley and coach Erik Spoelstra, Whiteside said: "It's definitely something you can discuss with those guys."

What did you take out of this series? "I've got nothing to say."

He then was asked where he goes next with this: "We'll see. I can't tell you right now."
It was obvious throughout the series that Hassan Whiteside was not happy with the current situation and it reflected directly to his on-court play. Through the first-round, Whiteside averaged only 15.2 minutes of playing time a game as opposed to 29.2 for Olynyk, a clear indicator of just how ineffective Whiteside was against Philly's small-ball lineup.
Though a lot of Whiteside's lack of minutes had to do with Philly playing without a true center on the floor a lot of times, it's clear Miami's coaching staff has it's doubts as well. The Heat are a lot of times better with Whiteside off the court and that simply can't be the case for someone earning nearly $25 million annually.
According to Jackson, the Heat will explore all trade options in regards to Whiteside heading into this offseason.
The Heat is expected to explore a Whiteside trade, with the center due $24.4 million and $27.1 million in the final two years of his contract.
With a hefty price tag attached, it remains to be seen whether they find an ideal trade partner or if the Hassan Whiteside conundrum will continue in Miami.