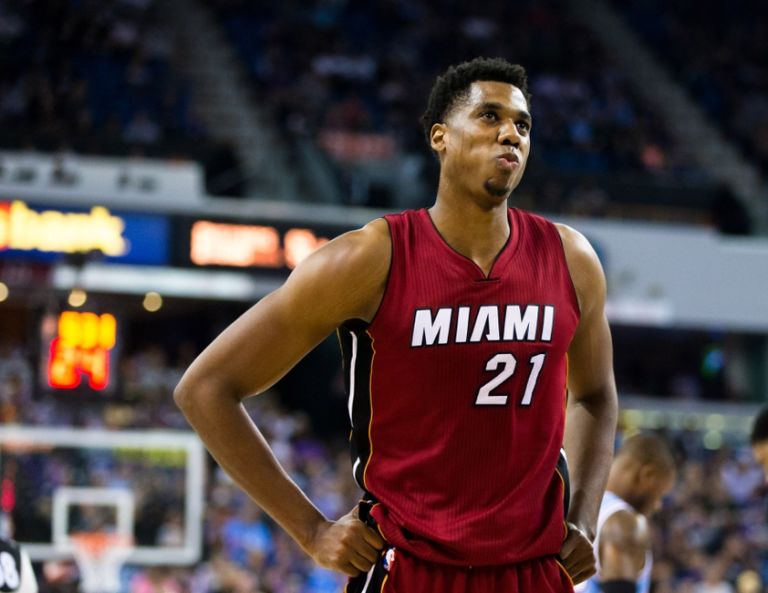 Coveted free agent center Hassan Whiteside has re-signed with the Miami Heat on a four-year, maximum salary contract, reports Tim Reynolds of the Associated Press.
Whiteside, who was paid $980,000 this season, will now be paid $98,000,000 over the next four years with Miami.
The Heat met with Hassan Whiteside and his representatives shortly after midnight Friday morning. Thought to be gaining steam in the race, the Dallas Mavericks then met with Whiteside in New York moments later. Dallas also offered Whiteside a max deal, but to no avail. In the end, Hassan Whiteside decided to stay loyal to the team that gave him his first big league chance.
Whiteside penned a short letter announcing his decision Friday morning on The Players Tribune:
I've played on eight teams since college — from Reno to Sioux Falls to Sichuan, China.

I am not ready for there to be a ninth.

I have decided to re-sign with Miami. I just wanted to take this time to tell all the fans how much you mean to this team, and to me.

Can't wait to get back to work and try to bring another championship to Miami. #HeatNation
Heat players Dwyane Wade and Chris Bosh took to Twitter to congratulate Whiteside:
Big big congrats to @youngwhiteside Your dedication and hard work to the game has finally paid off..#Caniborrow5dollars

— DWade (@DwyaneWade) July 1, 2016
Congrats to the big fella @youngwhiteside Great to have you back bro!

— Chris Bosh (@chrisbosh) July 1, 2016
In 73 appearances with the Heat this season, Whiteside averaged 14.2 points, 11.8 rebounds, and 3.7 blocks per contest. His efficient 61% shooting from the field was also among the league's best.
Hassan Whiteside appeared on the NBA scene out of the blue in 2015 with the Heat. Miami found a diamond in the rough, and they have no plans on losing him anytime soon. The offer of signing Whiteside was passed up by 29 other teams — The Heat were not one of them.
Regardless of Whiteside said earlier this week about loyalty, in the end, that is exactly what happened Friday morning. Hassan chose staying loyal to starting fresh, a choice that pleases Heat fans and angers a Dallas franchise that has once again been spurned by a center in free agency (see: DeAndre Jordan).