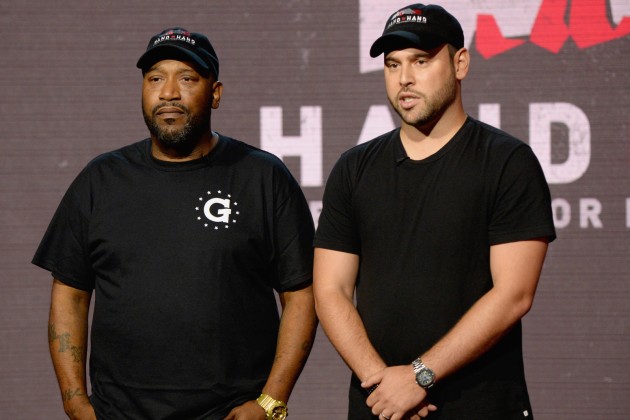 Bun B and Scooter Braun's star-studded telethon in the wake of Hurricanes Harvey and Irma, raising more than $44 million dollars for their cause.
What a powerful and beautiful night it was. ?? #HandInHand Continue to donate at: https://t.co/HxImEwwhu9 pic.twitter.com/tISMGZMREx

— iHeartRadio (@iHeartRadio) September 13, 2017
Tuesday evening's "Hand in Hand: A Benefit for Hurricane Harvey Relief" telethon began with a performance of "Lean On Me" by Stevie Wonder. ""We've come together today to love on the people that have been devastated by the hurricanes," Wonder said during the televised event. "When love goes into action, it prefaces no color of skin, no ethnicity, no religious beliefs, no sexual preferences and no political persuasions. It just loves."
Proceeds from the telethon go to the United Way of Greater Houston, Habitat for Humanity, Save the Children, Feeding Texas, Direct Relief and the Mayor's Fund for Hurricane Harvey relief.
Among the $44 million raised was a $5 million donation from Apple, Inc., a $1 million donation from Albertsons Cos. and Merck, and $500,000 from the NBA Players Association. Houston Rockets guard and NBAPA president Chris Paul stated that the telethon that the NBAPA would match every player's donation up to $20,000.
Drake, Beyonce, Diddy, and more stars in music and entertainment spoke about the power of unity and helping others when they're in need. Usher, Blake Shelton, George Strait and more artists performed throughout the evening.
"On some days it will be about speaking up. On other days it will be about stepping up. Today it's about stepping up." — @Drake #HandInHand pic.twitter.com/XnimVWyhjp

— The FADER (@thefader) September 13, 2017
Other celebrities like Oprah Winfrey, Justin Bieber, George Clooney, Matthew McConaughey and more answered phone calls during the telethon.
We can't bring back what they lost, but we can help them know where to take the next step and provide some solid footing for them to place their next foot. A path to stability. To a place where they can rebuild," McConaughey said.
Originally intended to support the victims of Hurricane Harvey, the telethon's donations will go toward helping victims of Hurricane Irm as well. At least 70 people were killed due to Hurricane Harvey and 20 reported deaths from Hurricane Irma, with estimates of $150 to $290 billion in damages in Florida and Texas.
The live broadcast is over but we're still answering your #HandInHand calls! Dial 1-800-258-6000 to make your donation now! pic.twitter.com/ZvIrUnUkPW

— KELENDRIA ROWLAND (@KELLYROWLAND) September 13, 2017