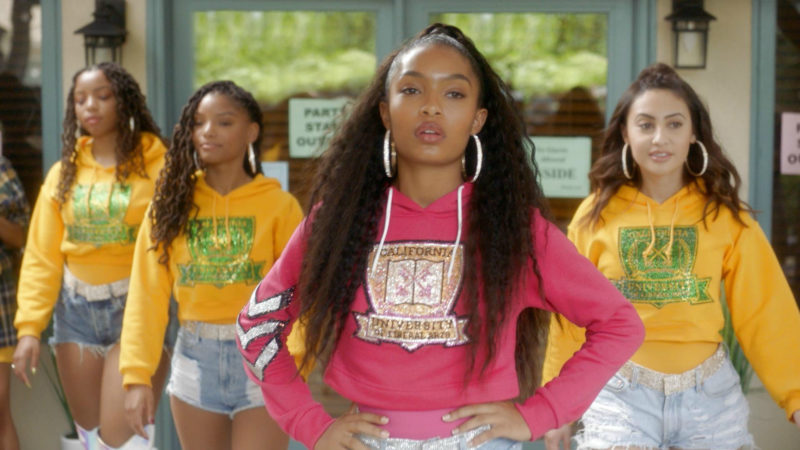 For approximately two years, Zoey, Aaron and the crew have taken us on an up and down journey. There has been laughter and there have been tears. There have also been a few highs and on Thursday there were a few lows.
Like any college centered television show, there will be more than a few moments where television places the college experience in unrealistic territory. However, the third season premiere of Grown-ish took liberties that few college shows should ever take. First, what college student is getting picked up with champagne at the airport? Second, what PWI has a fully formed Black band set in a backyard party? Third, what college students are affording a five bedroom home in an affluent California neighborhood? Television is television, but sometimes things go too far. Not to mention, Zoey took all summer to tell her friends that she just kissed a guy. Meanwhile, Nomi managed to go a whole summer without telling anyone that she was pregnant.
This is all to say that after a thirty minute introduction, it's time for our first grades of the semester. Here is the first Def Pen Grown-ish report card.
Zoey Johnson
boss man wants answers. #grownish pic.twitter.com/7xoLlxrSX6

— grown-ish (@grownish) January 17, 2020
Grade: F
Zoey is an absolute hot mess. After a hard summer of working and stacking up euros, she's going to blow all of it one month's rent trying to stay in that nice home. Second, Aaron was right. He was high, but he was right. They shared an innocent kiss. Yes, there was emotion involved, but it's not something that makes a friendship awkward. Above all else, she nearly lost her job. She's been home for one day and she does not know how to act. Get it together, Zoey.
Nomi Segal
whoomp, there it is. #grownish pic.twitter.com/SlOPmtBCJC

— grown-ish (@grownish) January 17, 2020
Grade: A+
Nothing came out of Nomi's mouth during this season's premiere, but she sure said a whole lot. For starters, she may be going through a lot, but she has somehow managed to continue with her education and return to school. Not to mention, she's found a way to afford to live in that seemingly expensive house while pregnant. Her timing could have been better, but it is what it is. Blessings to her and her child. Good luck Nomi!
Aaron Jackson
it's hitting. #grownish // @trevorjackson5 pic.twitter.com/Ihp3TgplX2

— grown-ish (@grownish) January 17, 2020
Grade: C+
Aaron is easily this week's biggest non-Zoey Johnson disappointment. Prior to the show's final scene, Aaron was completely unbothered and living his absolute best life leading into his senior year. Simply put, he had earned an A grade. Then, he made the biggest mistake you can make in his position. What led him to streak? It is hard to know. Maybe it was the mushroom or maybe it was Doug's pep talk. Regardless of what was ingested or said, there is no need to go streaking anywhere, especially at a party full of people that you know and must look in the eye the next day.
Luca Hall
so he owns up to his mistake. we can work with that. #grownish pic.twitter.com/obMNDV3bwH

— grown-ish (@grownish) January 17, 2020
Grade: D
The only person that will receive a lower grade than Luca is his ex-girlfriend, Zoey. In many ways, it's starting to look as if they are a perfect match for each other because they both cannot get it together. First, Zoey is found panicking about non-issues that are affecting her actual job. Then, Luca comes on the screen and delivers the worst apology in the history of a show that has included some pretty poor apologies. As bad as Zoey can be at times, Luca was and continues to be the problem in their relationship.
Sky Forster
sky was ready with it. ? #grownish // @chloexhalle pic.twitter.com/atINdkjXJu

— grown-ish (@grownish) January 17, 2020
Grade: A
Sky has her eye on the prize as usual. Not only did she secure a date, she also stacked up some money in the face of the NCAA's fraudulent rules that deny student-athletes the opportunity to make money. While I'm still unsure how she can be both a student athlete and live off campus in that nice house, I'm not going to question it. Moving forward, expect Sky to keep winning and scoring high on the report card.