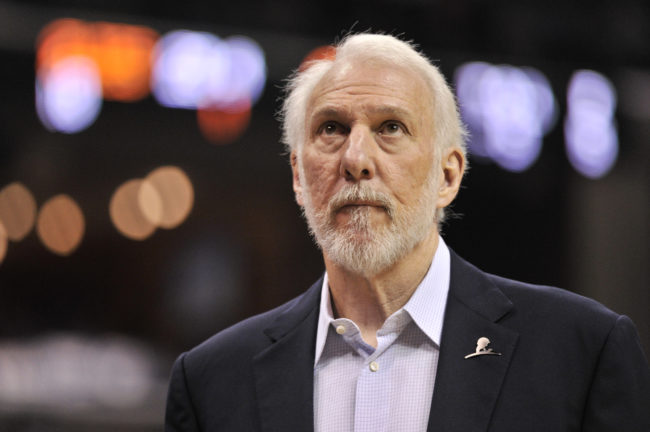 San Antonio Spurs head coach Gregg Popovich doesn't 'know the answer' on whether he'll coach the Spurs beyond this season, according to Marc Stein of the New York Times.  When asked about his future with the Spurs after Wednesday night's win over the Dallas Mavericks, he replied with a short, 'I don't know the answer.'
"I don't know the answer," Popovich said when asked about his plans for next season in an interview Wednesday night after the Spurs' 105-101 victory over the Dallas Mavericks."
On his birthday, January 28th, Popovich will become just the fourth 70-year-old coach in NBA history. Popovich is also on the last contract year of his five-year extension he signed in 2014.
Popovich also told the New York Times that he and R.C. Buford, San Antonio's team president, often speak about the organization's options after this season. When asked about the situation, Buford replied, "He'll coach as long as he wants to coach."
"He'll coach as long as he wants to coach," Buford said.
The past two seasons have been very interesting for the head coach, to say the least. From the whole Kawhi Leonard saga to a completely new Spurs team this season and the death of his wife, Erin, also shocking Popovich and the Spurs ecosystem at the end of the 2018 season. It's understandable why Popovich may want to call it a career after so much success.