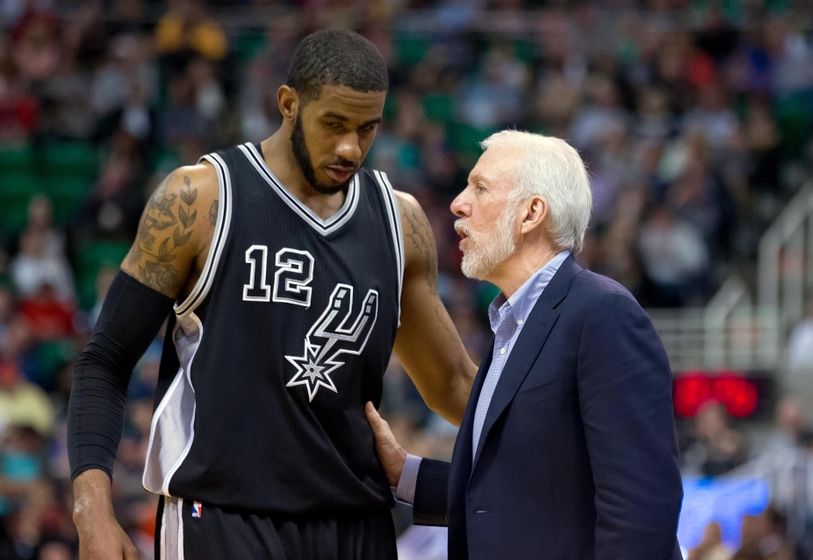 After battling through the first two rounds of the 2017 NBA Playoffs to reach the Western Conference Finals, the San Antonio Spurs now find themselves in a 2-0 hole at the hands of the Golden State Warriors. After Kawhi Leonard exited Game 1 due to reinjuring his already gimpy ankle, the Spurs have been dominated, getting blown out in Game 2 after suffering a heartbreaker in the series opener.
Following their 136-100 loss, Spurs head coach Gregg Popovich believed his team let the Leonard injury get to their heads and didn't come out with the requisite effort needed to take down a powerhouse like Golden State:
Gregg Popovich says the #Spurs didn't believe from the start of game 2. pic.twitter.com/2sLH8SevNA

— Def Pen Hoops (@DefPenHoops) May 17, 2017
From the get-go, it was clear San Antonio lacked the motivation and desire needed to pull out a game of that magnitude, especially when the star player is sitting due to injury.
With Leonard out, much of the scoring responsibilities fell squarely on the shoulders of big man LaMarcus Aldridge. Aldridge played the second fiddle to Leonard all year but the Texas product isn't a stranger to being the primary scoring option, a role he played with the Portland Trail Blazers for years.
However, the big man came up small in Game 2, putting up only 8 points in a game which he was expected to carry the offensive load. Popovich took note of his big man's subpar performance, calling him out for playing timid too often on occasion:
Gregg Popovich talks about what he needs to see from LaMarcus Aldridge going forward. pic.twitter.com/ZQ39cjSpgZ

— Def Pen Hoops (@DefPenHoops) May 17, 2017
There's no doubt the analysis of Popovich is on the money. Aldridge took too many soft jumpers instead of utilizing his size and attacking the rack with purpose. Aldridge is frequently being guarded by a smaller body and he needs to do a better job of making Golden State pay if the Spurs want any chance at making this a series.