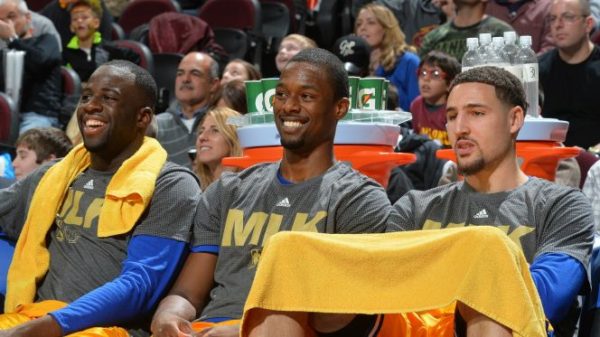 There are many interesting things to look at while watching Team USA play. Noticing that Draymond Green, Klay Thompson and Kevin Durant are playing together. That gives us a little taste of what is to come for the upcoming season.
Kyrie Irving balling with the Warriors players that he just beat to the NBA Championship in record breaking fashion. That must be fun.
And Harrison Barnes who just left the Warriors playing with Dray, Klay and the guy that pretty much replaced him, Kevin Durant. That must be a bit awkward. Dray & Klay assure that they still love HB no matter what.
"Just because you go to a different team doesn't mean the relationship is over," Green said Thursday. "Harrison? We won a championship together. We're linked together forever. We've been through some stuff. We had a first-round exit together, we've had a second-round exit together. We won a championship, we lost a championship. You don't just wash that away because someone goes to a different team. That's there — and it'll be there forever."
Said Thompson: "It's weird. It's like the last chapter we'll play together in our basketball careers. But we're embracing it. HB's a great guy. It's a friendship that will last for a lifetime. I'm proud of him. He's only scratched the surface of what he can do. I'm happy for him, and me and Draymond are happy for one more go-round because he really is a great teammate."

I see that we could've had a more juicy story to this but it's all love unfortunately. If I was Barnes I would feel a tad salty that they went with KD but even he knows that they upgraded on that front. He's part of the Mavericks now and has the opportunity to grow as his own man and possibly be a leader in the post-Dirk era.