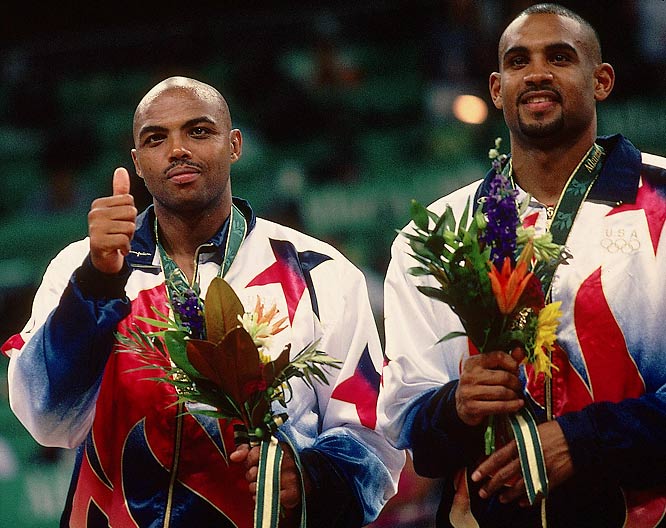 Grant Hill was on the USA's 1996 Olympic basketball team — a team that tends to fly under the radar when great teams are discussed. Joining Hill on this team was a myriad of superstars: Charles Barkley, Penny Hardaway, Karl Malone, Hakeem Olajuwon, Shaquille O'Neal, Reggie Miller, Gary Payton, Scottie Pippen, Mitch Richmond, David Robinson, and John Stockton.
This team dominated the Olympics, sweeping their way to a gold medal while winning each game by an average of 28 points. This was an incredible team. Grant Hill believes that they were better than the 1992 "Dream Team," he tells SLAM's Max Resetar:
It seems like the only way the 1996 team would get their due is by beating the Dream Team. Grant Hill is confident in the outcome of a single game between the two.

"I'd say 1996." Hill looks up into the sky while he picks the winner, looking like he's picturing the game.

"We had good balance. We had some younger players. I think with Shaq, with Penny when he was right—you had the legends like David Robinson, Karl Malone, Charles Barkley, John Stockton, Scottie Pippen. Then you had those guys that were right in their prime. Reggie, Mitch Richmond, Gary Payton. Then you had the young guys like myself, Penny and Shaq. I'd pay to see it. I'd like to think that we could get them. I'm glad you brought that up, I feel like we don't get the respect." He says that last sentence with a smile.
The coach of that team, Lenny Wilkens, isn't sure which team was better:
"They're both good teams," he says, remaining completely neutral. "I know what Gary and Mitch Richmond would say. They would say we'd win. I'm sure that the '92 team would say the same thing. I enjoyed coaching all those guys." Forever the player's coach.
This is a tough call, for sure. No disrespect to Grant Hill, or anybody else on that team, but I'm taking the '92 team in a close game. What do you think?