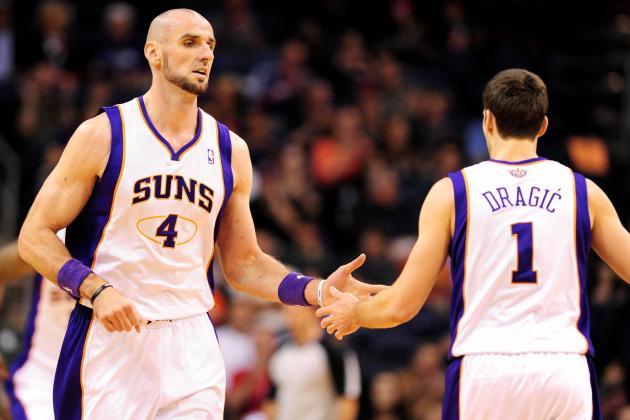 The Phoenix Suns are quite a mess at the moment. The team is in shambles with chemistry issues and a very bad on-court product. Head coach Jeff Hornacek's job is in danger as a result. The issues surrounding the team have led to much discussion around the league.
The most recent example of this comes via Goran Dragic. The current Miami Heat point guard spoke with Yahoo Sports' Michael Lee and had some interesting things to say about his former team. Dragic's second stint with the Suns ended early as he requested a trade due to a logjam at the guard positions. When the Suns signed current Celtics point guard Isaiah Thomas to join a core of Dragic and Eric Bledsoe, it seems they created a bad situation for everyone involved, something that Dragic says is a common and major issue in Phoenix.
It feels like they're always changing something. They're not like Miami, San Antonio, those teams that are really loyal when they find something. Me and Bledsoe, we built really great chemistry together, we played well and the whole team did. Everybody expected that we're going to get some big guys that we thought we needed, but they did another move, they bring in a point guard and it was tough. I was a little bit frustrated. It was tough, especially for me, because I was playing off the ball all the time, and I was guarding [small forwards]. That was tough for me, but they did what they did.
The quote is indicative of most problems surrounding the Suns at the moment. The team has often had glimpses of contending as soon as they have a small bit of success. The Suns did well with the Dragic and Bledsoe pairing and tried to double down on their guard-dominant lineup by adding Thomas, leading to tension in the locker-room.
The Suns attempted to do the same thing this offseason, trading away their depth (including Marcus Morris) in order to create cap space for LaMarcus Aldridge. Not only did Aldridge not choose to go to the Suns, but the team created a terrible situation in angering Morris's twin brother Markieff, who has not been the same on the court since the trade. The team then doubled down on its mistake by signing aging veteran Tyson Chandler, a move that has not paid off enough.
The fact that a player still in the league is saying these things about the Suns is very telling. It is not often that any player harshly criticizes an organization he was a part of. Not only did the Suns have one former player publicly criticize them, but they had another one agree:
@Sportando true

— Marcin Gortat (@MGortat) January 5, 2016
That's not the greatest reputation to have around the league.