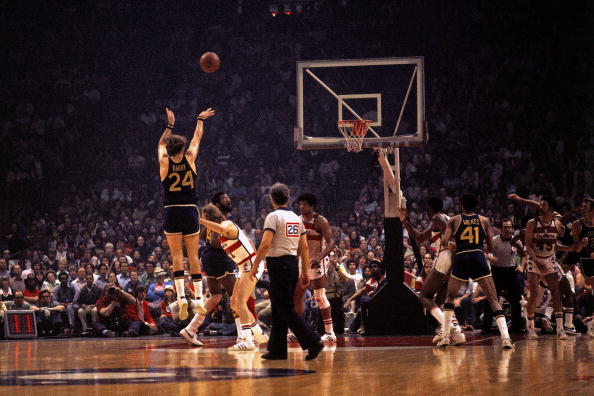 Who is the greatest small forward of all time? Answering that question is difficult. It isn't as easy as answering who the greatest shooting guard of all time is, where you can just say Jordan and be done with it. Everybody has their own opinion when discussing small forwards. There are a number of candidates when talking about the best 3 to ever play. There have just been so many fantastic small forwards throughout time. Julius Irving, Elgin Baylor, Scottie Pippen, Dominique Wilkins, and John Havlicek are all in the conversation, but the two most often called the greatest are Larry Bird and LeBron James.
Rick Barry, who is a legendary small forward in his own right, is in the LeBron camp.
From Ananth Pandian of Eye of Basketball, Barry told CBS Sports Radio's Scott Ferrall:
I think LeBron is the greatest three to ever play the game. And as great as he is, he still has room for improvement. If that was ever to happen and he really refined his game more, they may have to outlaw him, he's so good. He's an anomaly, I mean he really is. There's never been anybody like him with his size, his athleticism, his feel for the game.
Barry has his opinion, and so does everybody else. I, for example, will argue Larry Bird all day long. I believe that LeBron just can't match Bird's competitiveness. From the trash talk, to the seemingly endless clutch shots, Bird left his mark as one of the fiercest competitors to ever step on a basketball court. In an era where three-point shooting was an afterthought, and nowhere near as heavily relied on as it is today, Larry Bird was efficient enough to join the 50-40-90 club twice in his career, a mark LeBron has been unable to reach due to his 3-point shooting and free throw shooting.
Bird and LeBron are the obvious top choices for GOAT small forwards, and Barry thinks it's LeBron. The way the two's legacies stand today, it is hard to call one definitively better than the other. LeBron is obviously more athletic, Bird was a better shooter, and both share phenomenal passing skills. If LeBron wants to go down as "the top small forward ever" rather than "arguably the top small forward ever," he will need to add to his legacy. He has a chance to add to that legacy as he will be in the finals. He needs to win the finals this year. If he loses to the Warriors, he will be just 2 for 6 in Finals series all-time. That's not a good mark, and fans will give him hell for it.