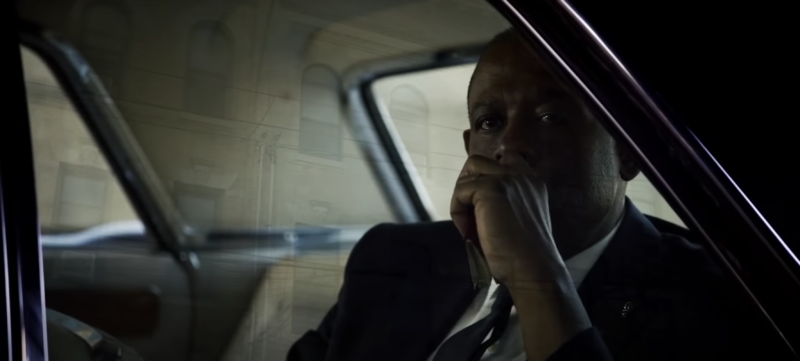 Season two of The Godfather of Harlem is set to return to Epix on April 18. Given how season one ended, there's a lot to look forward to and many questions that need to be answered. Before we enter into season two of the Forest Whitaker-led drama, take a look back at season one. Through the "Rewind" series, examine the highs, lows and mind-boggling moments from each episode of season one. A new edition of the "Rewind" series is available each day at 10 a.m. CT.  NOTE: The article below contains spoilers for the first episode of the first season of The Godfather of Harlem
Trailer
Synopsis: "By Whatever Means Necessary"
"After returning from Alcatraz, Bumpy Johnson seeks to regain control of Harlem. With the streets controlled by the Italian mob, Bumpy must take on the Genovese crime family, led by Vincent "Chin" Gigante," Epix writes.
The Highs
Each edition of the "Rewind" explores the "highs," "lows" and the "what the f*ck?" moments of each episode. In episode one, there are a ton of highs, but the most obvious "high" comes in the first few moments of the episode. Bumpy Johnson, played by Forest Whitaker, returns home from prison to his beautiful wife, Mayme Johnson, and grandaughter/daughter, Margaret. We'll discuss what the "granddaughter/daughter" title means a bit later.
With Bumpy home, he has his crew ready to go and he also has powerful allies in powerful places. The man he once knew as Detroit Red has transformed into the man the world knows as Malcolm X. Together, the two make a powerful team that touches the streets and the pulpits. This relationship comes in handy when he's at odds with Vincent "Chin" Gigante.
Immediately upon returning home, Bumpy Johnson expects to have control of everything running from 110th street through 160th street. However, his expectations are dampened when he learns that Gigante has taken control of this area and Harlem while he was locked up. This tension comes to a tipping point pretty quickly in the episode. One of Gigante's men, Richie Zambrano, runs into a bar in Bumpy's neighborhood and shoots someone. From there, Johnson runs down to a butcher shop in Gigante's neighborhood to confront him, but he finds Chin there to back Richie up. There, the chess match between the two men ensues. The two go back and forth over the course of sixty minutes. Ultimately, Bumpy Johnson ends up getting Chin Gigante to give up control of 110th street through 160th street. He also finds a way to kill Richie Zambrano and pin the murder to Chin. However, he ends up making an enemy in Chin, who is waiting for the moment to strike back and take back his territory. After one episode, it's Bumpy one and Chin zero.
The Lows
While Bumpy Johnson ends up getting Chin Gigante to relinquish control over Harlem, he ends up taking a few losses in the process. The first loss comes when Malcolm X points out how Gigante's crew has destroyed portions of Harlem by dealing heroin. In response, Bumpy Johnson decides to use Malcolm X and the Nation of Islam to get rid of the drugs in the area. In the process, Johnson plays along as if he is completely opposed to dealing drugs in the area. Their actions provoke Chin's crew to come down to Harlem with shotguns. It is at this point that Bumpy tells Chin that he can't do business in Harlem until he gets a cut. While Bumpy gets his point across to Chin, it puts a seed of doubt in Malcolm X's mind. If he's doing this his first day out, can Malcolm X ever truly trust Bumpy Johnson?
After Bumpy Johnson makes his stand against Gigante in Harlem, he's asked to do a favor for one Mayme's friends, Delia. Delia's son, Teddy Greene, played by Kelvin Harrison Jr., has not only started dating Chin's daughter, Stella, but he's also colluded to steal a key of dope from him in hopes of getting enough money to run away with her. Keep in mind, it's 1963. Black men get killed for even thinking about dating white women at this time. In an effort to control the situation, Johnson calls on Malcolm X to help him track down Greene. However, there's a catch. After the situation with Gigante, X decides he needs a favor in order to do Johnson's deed. Bumpy must convince Adam Clayton Powell Jr., played Giancarlo Esposito, to let Malcolm X preach from his pulpit on Sunday. In order to get this favor done, Johnson must convince the five families to let Clayton Powell Jr. on the congressional ballot. While it all plays out the way Johnson wants it to, there are two major issues here. First, Teddy Greene is separated from Stella and sent down south, but it's clear that he's not going to stay there, which will create issues in the future. Second, putting Powell Jr. on the ballot through the families' influence will tie everything Powell Jr. does to Johnson. Given how Powell Jr. moves, that could definitely be an issue later in season one.
The What The F*cks
The rise and fall of Richie Zambrano in this episode is one of the weirdest storylines thus far. Within minutes of the first episode starting, Zambrano has run into a bar in Harlem and shot a kid. Then, Johnson comes to his block and he needs Chin to back him up in order to keep the peace. During the showdown with the Nation of Islam, the two try to slit each other's throats. Then, things take a left turn. Zambrano hires a hitman to take out Johnson. However, there's one tiny issue. This is the worst hitman in the history of hitmen. The first issue with the hitman's approach is that he tries to shoot Bumpy Johnson, the most powerful man in Harlem, in broad daylight while he's eating ice cream with his family. Second, he has not a bit of discretion while trying to pull off the job. While walking past the ice cream shop, he looks directly at Bumpy and reaches for his gun, but he doesn't shoot. This brings us to the final issue. He has horrible aim. After he makes eye contact with Bumpy Johnson, Bumpy understandably comes out of the shop with his gun drawn and starts looking for the guy. The two eventually make eye contact and start shooting, but the hitman has no type of aim whatsoever. As one would expect, Bumpy's right-hand men, Del and Nat, track the hitman down and find out who hired him. This ultimately leads to Zambrano's death.
Beyond the scope of violence, one of the more important revelations from the first episode is that Margaret is not Bumpy's daughter. Margaret is his granddaughter. Throughout the episode, Bumpy Johnson is confronted with the after-effects of his drug dealing. He comes face to face with a number of people struggling with addiction and towards the end of the episode, it is revealed that one of the women struggling with addiction is Bumpy's daughter, Elise. Closing out the episode, Bumpy places her in the care of the Nation of Islam. At this point, it's unclear if Margaret knows that Elise is her mother, not Mayme.