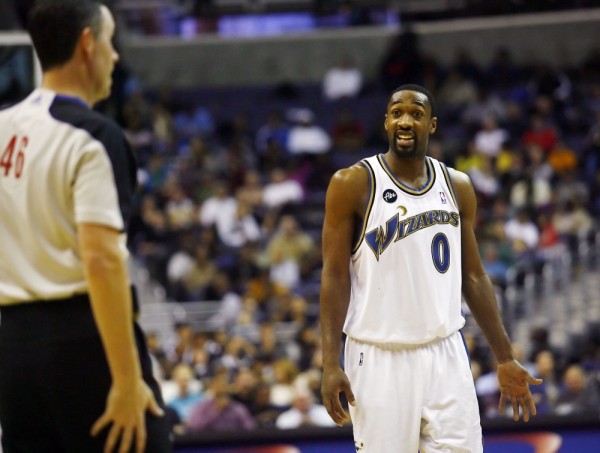 After the infamous gun incident between star guard Gilbert Arenas and Javaris Crittenton in the Washington Wizards locker room, Arenas' career was changed forever. He never quite returned to form after being suspended the remainder of the 2009-10 season.
Arenas spoke in-depth about the brawl for the first time with the Action Network, including the detail that the incident sparked from trash talking, not money.
Arenas joined a game of cards late on the team plane when Crittenton was already down:
"I mean, this man was bleeding. I'm already hyped because there's $1,100 in the pot," Arenas said, according to the website. "I smell the blood. … I came in on my deal, and already he's f—ing livid. He's all heat. 'This is bulls—! How you gonna get in the game now?!' He's upset because he started thinking about the odds, and he's the last person to get the cards."




"I'm talking my good old s—. 'Ooooh yeah, baby, don't fall asleep now,'" he said. "When anyone was getting killed, I'd hit the stewardess button. 'Oh no, we have a jumper. Tell the pilot! We have a jumper, people!' And Javaris is 1,000 degrees hot. But everyone knows my style. I'm gonna keep poking. I want you f—ed up."

"I was like, 'Javaris, I will burn your car, while you're in it. Then we'll find an extinguisher to help ya ass out,'" Arenas said, according to the website. "And he says, 'Well, I'll just shoot you then.' I said, 'Man, I'll bring you the guns to shoot me!'"
Only two days later, both players brought guns to the Wizards' locker room and were subsequently suspended for the rest of the season by the team. Arenas played just one more season in the NBA after being consistently one of the best scorers in the league in his prime, while Crittenton never played in the league again.