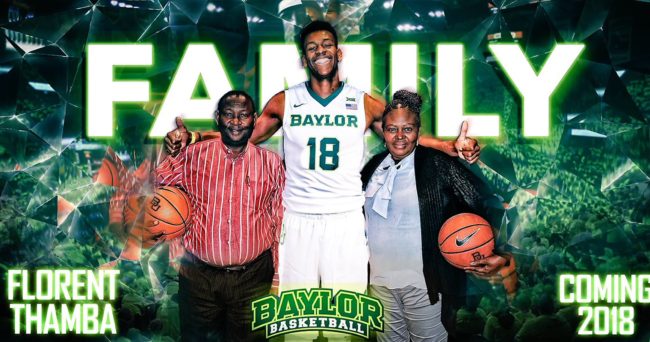 Baylor received their third commitment for the class of 2018 on Martin Luther King Jr. Day, from Rivals and 24/7 3-star recruit, Florent Thamba of Mountain Mission School, located in Grundy, Virginia. The 6-foot-10, 230-pound big man announced his verbal commitment via Twitter in the early afternoon of the day.
Thank God for the opportunity ??
Let's Go Bears ?? pic.twitter.com/vbocnnYICB

— Flo Thamba (@Flo_T3) January 15, 2018
Thamba makes his commitment to the Bears over Georgetown, Illinois, Pittsburgh and others. Nicknamed "Flo" for short, Thamba will join Matthew Mayer of Westlake High School and Darius Allen of Palm Beach State College as the hard/verbal commits for the Bears' 2018 class.
"Baylor just seems like the right fit for me," Thamba told Def Pen. "I developed a good relationship with coach Drew and his staff and they really showed me how my role would fit at the school and all."
Thamba has shown an ability to be an athletic paint protector, along with an ability to run the floor and score in the post when given an opportunity on the low block. He has the potential to become a defensive star in Waco, Texas, with his 7-foot-5 wingspan, and possibly develop into a better offensive player in pick-and-roll situations.
"Well, being with them I see my potential rising as they will develop my game to the highest level, not only on the court, but also as an individual," said Thamba.
The potential is there for Thamba to develop with the Bears, as they'll be losing Jo Lual-Acuil Jr. and Terry Maston due to graduation on their front line. Freshmen Tristan Clark has been a bright spot for the Bears this season and will likely continue to be one next season as a sophomore.
With the recruitment over, Thamba can turn most of his attention to finishing his high-school career and continuing to get better over the summer prior to stepping foot on campus for one of the better teams in the Big 12.
"As far as the recruiting process," said Thamba. "It was an opportunity I was blessed to have had for being recruited by some high-major programs who saw the potential in me and I am truly grateful and blessed to be part of it.