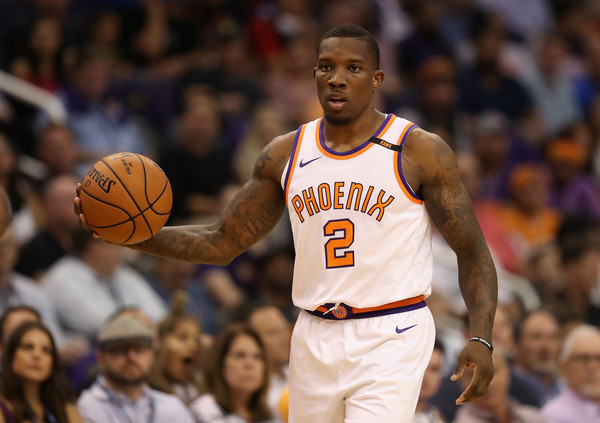 With the season just starting barely even a week ago, now is not the typical time for NBA trade drama but that won't stop the rumors surrounding the current Eric Bledsoe saga in Phoenix from running wild. After a porous start to the season and an early coach firing of Earl Watson, it all started when Bledsoe recently sent out a cryptic tweet that many speculate has to do with his current situation with the Pheonix Suns:
I Dont wanna be here

— Eric Bledsoe (@EBled2) October 22, 2017
If this tweet did indicate Bledsoe wanting out, it shouldn't come as much of a surprise, especially when considering the trajectory of his career in contrast to the Suns current timeline.
With so many young prospects now in the fold such as Devin Booker and Josh Jackson, they likely have a few years to go before gaining real relevancy in the Western Conference. At 27 years old, Bledsoe is in the early stages of his prime and would likely rather be on a team with a win-now mentality as opposed to one with its eye on the future such as the Suns.
The day after that Tweet was published, Bledsoe was sent home from Suns practice according to Suns reporter John Gambadoro:
Bledsoe while not certain does not expect to play for the Suns again after being sent home.

— John Gambadoro (@Gambo987) October 23, 2017
More light was shed on the entire Bledsoe situation when GM Ryan McDonough spoke to the media after the practice. The GM stated that Bledsoe had told him the original tweet came while he was with a woman at a hair salon and wasn't related to his status with the Suns.
Either way, McDonough didn't buy Bledsoe's story and stated that the Kentucky product 'won't be with' the Suns moving forward. Following from Fox Sports Arizona:
Summarizing McDonough's comments today:
Relationship w/ Watson "wasn't great."
Not buying Bledsoe, who requested trade, tweeted from salon. pic.twitter.com/uEOW4UOTlB

— FOX Sports Arizona (@FOXSPORTSAZ) October 23, 2017
With it being so early on in the campaign and Bledsoe forcing the Suns' hand, finalizing a trade will be a tough task, especially because the guard's value isn't exactly at its apex. However based off what we know from both sides, the possibility of seeing Bledsoe back in a Suns uniform still seems far-fetched.
According to ESPN's Adrian Wojnarowski, the Suns have already been in contact with teams across the league regarding Bledsoe:
Sources: Suns engaged in trade talks w/ several teams on Bledsoe. Phoenix soliciting offers with expectation he's on move elsewhere. https://t.co/mj4raCATlp

— Adrian Wojnarowski (@wojespn) October 23, 2017
Expect a deal to break sooner rather than later as the Suns front office continues doing its due-diligence in searching for a trade partner to take their disgruntled point guard off their hands.