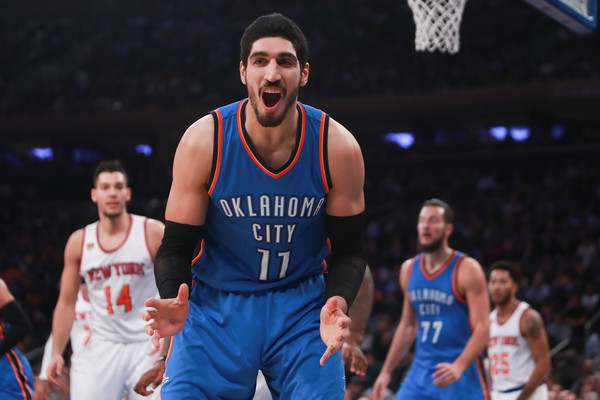 After a first round exit to the Houston Rockets, the Oklahoma City Thunder are looking at ways to improve their team. One of those possible changes could be moving one of their big men, Enes Kanter. According to Barry Trammel of NewsOK, the Thunder have Kanter on the training block.
"Kanter absolutely is on the trading block, not because the Thunder has grown disenchanted with Enes the Menace, but because he's got some value (remember, 33.1 points per 100 possessions played) and OKC is overstocked on big men."
This past season, Enes Kanter averaged 14.3 points, 6.7 rebounds, and 0.9 assists. He also shot 54.5 percent from the field and 13.5 percent from beyond the arc.
While his offense has never been a problem, his defense is known to hurt his team's quite a bit. With Domantas Sabonis on the roster, the Thunder may find Kanter unnecessary. They could use a wing who can shoot or a backup point guard for Russell Westbrook. Kanter is on a large contract after Oklahoma City matched an offer sheet for him in 2015.
Enes Kanter on the trade block isn't the only area the Thunder are going to have to have to address. Taj Gibson and Andre Roberson are both free agents this summer. Roberson is a Restricted Free Agent, but he could be in line for a big contract.
The Thunder have an interesting summer ahead of them. They have the 21st pick in the upcoming draft, and they could be in line for a roster shakeup.