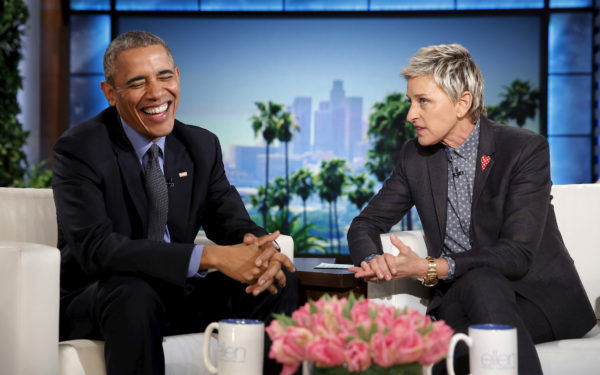 In a move that surprises no one, Ellen DeGeneres has finalized a deal to extend her daytime talk show, The Ellen DeGeneres Show, for another three seasons. The show's current deal was set to end after the 2019-2020 season. It's currently in its sixteenth year and is syndicated on NBC owned television stations and Hearst Television. Recent guests include Keenan Thompson, Jennifer Aniston and and Reese Witherspoon.
The Emmy-award winner made the announcement during today's show. She told her audience, "I'm excited to announce that I'll be doing my show for three more years." She added, "Mostly because I love doing it so much every day but also because that takes me to the end of my car lease."
Doing this show has been the ride of my life. pic.twitter.com/Mytkjxj4xa

— Ellen DeGeneres (@TheEllenShow) May 21, 2019
Peter Roth of Warner Bros. Television Group was also excited about the extension. He said, "Ellen is, quite simply, a force of nature." He also mentioned, "Her energy, intelligence, kindness and creativity know no bounds."
Given the show's success, the extension was not much of surprise. According to Deadline, the Ellen Digital Network has earned approximately 1 billion views across all platforms each month. In addition, the network has nearly 300 million followers across all platforms. In short, the show is one of the most successful on television today. The next season of the show will premiere this September.