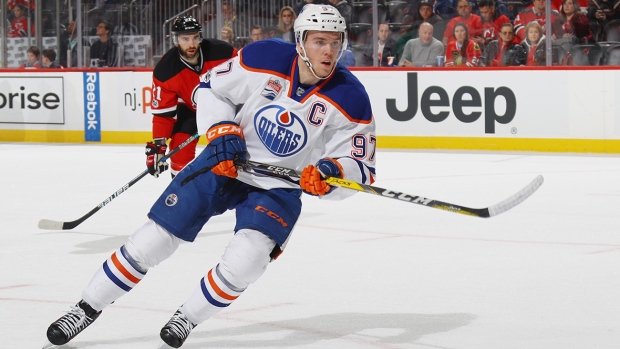 The Edmonton Oilers finally stepped out of the rebuilding phase, and into the contender phase, in large part to star center Connor McDavid. Now they have to make sure he sticks around. Oilers general manager Peter Chiarelli made it known that he has a plan to get McDavid locked up.
"The order of events, we can't officially sign Connor until July 1, but it's going to be Connor and then Leon," Chiarelli said Tuesday. "And then we have a cluster of other guys that I'd like to have back, but I have to get through those."
McDavid, 20, has dominated the NHL since being the first overall pick in the 2015 NHL Entry Draft. Despite being injured for half his rookie season, McDavid finished with 16 goals and 48 points in just 46 games. He followed that with a ridiculous sophomore season, scoring 30 goals and posting 70 assists for a 100 point season, and a Hart Trophy nomination, which he will likely win and become the NHL's MVP.
There has not been a worry in Edmonton about whether McDavid will return once his contract is up, but just as we have seen among top teams in the NHL, the salary cap is hard to manage when paying elite players.
The Chicago Blackhawks are paying their two star players, Patrick Kane and Jonathan Toews $10.5 million next season, with Los Angeles Kings center Anze Kopitar having a cap hit of $10 million, and Jamie Benn and Alex Ovechkin round out the top 5 of cap hits, each making $9.5 million next season.
McDavid will no doubt fall into that range, and will likely exceed all of them. The Edmonton Journal estimated the contract in the $11-$12 million range over 8 seasons, which given his production in his short two seasons seems like a fair price.
The Oilers should be fine with cap space for the upcoming season, where McDavid will be on his rookie contract. But the following season, with McDavid's extension and Leon Draisaitl receiving a large contract this season, it will take some maneuvering by Chiarelli to keep the Oilers out of salary cap hell, which has haunted many teams in the past.