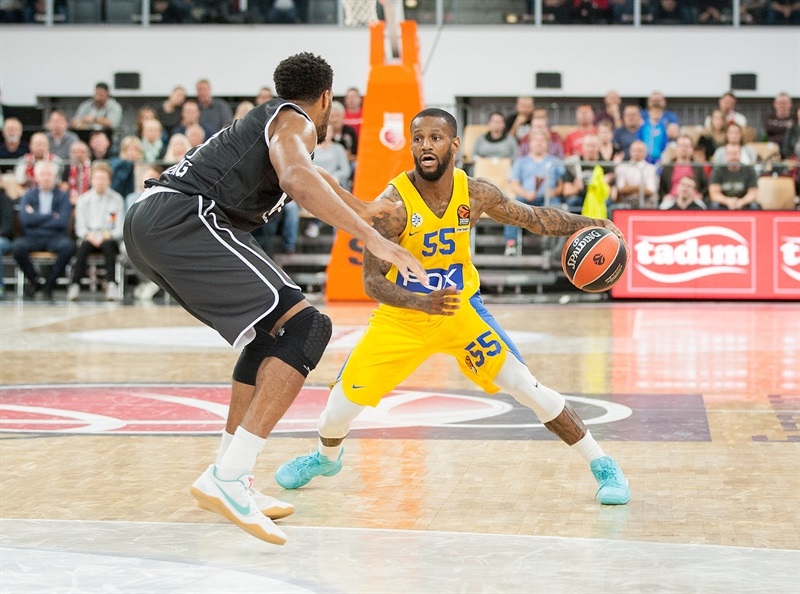 Through two rounds of Euroleague play, there has been plenty to respond to, as there always is in arguably the most competitive professional basketball league in the world. Teams and players alike have impressed, and others have disappointed.
It has only been two games though, which means the sample size is small and that these reactions are overreactions.
The first team to overreact too is Brose Bamberg, and the reaction is a negative one. Through two games head coach Andrea Trinchieri's side has picked up two losses and never really impressed in either game.
In Round 1 they lost at home to Maccabi Tel Aviv by a score of 88-71. Bamberg was competitive for about 30-35 minutes of the game and then just collapsed in the final five minutes. Their best player on the day was Niko Zisis who finished with 16-points, five assists, four rebounds and a PIR of 18.
Now sure, an opening home loss to Maccabi is only the first game and Pierre Jackson had what might go down as one of the best games of the season (more on this later). But in Round 2, the German side traveled to Athens to play Panathinaikos who probably had the worst performance in the opening round when they got blown out by Barcelona.
Bamberg lost this game by a score of 93-83 and was led by Leon Radosevic who finished with 19-points, 6-rebounds, and a 26 PIR.
Zisis and Ricky Hickman – two players who are past their primes – have been their best backcourt players. New signings such as Daniel Hackett, Luka Mitrovic, Quincy Miller, Bryce Taylor and Augustine Rubit haven't come anywhere close to impressing, and at the moment they don't look like they could stop a high school team from scoring.
Bamberg only won 10-games last season which was disappointing, but they competed with the best teams in the league on a nightly basis and were a joy to watch. The team had real talent in Nicolo Melli and Darius Miller among others but that doesn't seem to be the case for this season.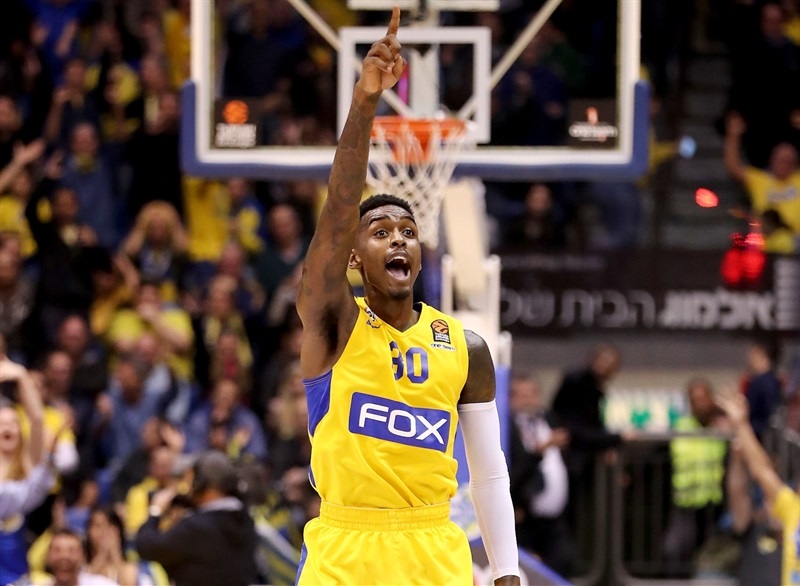 Trinchieri and his crew could be in for a very long Euroleague ride, and that could weight on them domestically as well and potentially open the door for Bayern Munich or Alba Berlin. It's still early days, but Bamberg has to get it together soon.
Another team that deserves an overreaction after two games are Bamberg's opponent from Round 1, Maccabi Tel Aviv. (By the way, if one more person makes an MTA – the abbreviation I always use on Twitter to discuss Maccabi – Metropolitan Transportation Authority joke on Twitter you're getting blocked.)
The sole Israeli team in Euroleague hired a new head coach for the season in Neven Spahija and gave him an entirely new roster.
As always, a summer overhaul gives reason to worry. Two of your marquee signings – Jackson and Norris Cole – playing the same position and having similar playing styles gives even more reason to worry.
But as mentioned earlier, the boys in blue and yellow handled Brose Bamberg easily in Round 1. Jackson finished the game with a remarkable stat line of 27-points, nine rebounds, seven assists, shot 5/5 from deep and a PIR of 41. It's near impossible to think of a better Euroleague debut one could have for a club.
Maccabi had their home opener in Round 2 and it was Baskonia who came to visit. The Spanish side lost their opener to Olympiacos in Piraeus so they were ready to fight until the end for a victory in Tel Aviv.
Baskonia led for the first eight minutes of the game but then Maccabi took the lead and never looked back. In the early stages of the second-half, Maccabi extended their lead to 14 and looked ready to coast to victory but Prigioni's team had other ideas and clawed their way back into the game thanks to Rodrigue Beaubois and Luca Vildoza.
With three minutes left Baskonia made it a two-point game and Spahija called a timeout to help calm his teams' nerves and boy did it work. They picked-up two stops and scores in the next 90-seconds and brought the lead up to six and were clearly in control. Norris Cole was the star for this game, finishing with 24-points, five assists and a 24 PIR.
This win was very impressive for Maccabi because they were known to start out games strong last season and then collapse in the fourth-quarter and just do away with all their hard work. While Jackson and Cole have been the poster boys of both victories so far, other players have done very well in their roles.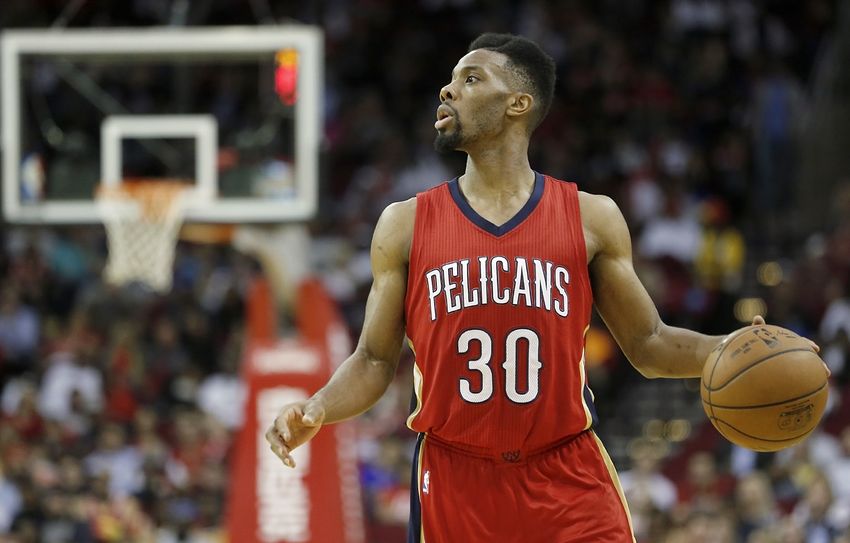 Michael Roll has allowed Spahija to use three-guard lineups. Roll is a plus-sized two so he has no problem guarding Euroleague three's. He can space the floor, create off-the-drbble, and even run the pick-and-roll. A trio of Roll and some combinations of Jackson, Cole, and John DiBartolomeo has proven to be quite a handful for most teams to guard.
Alex Tyus and Artsiom Parakhouski have proven to be the perfect center rotation for the club as well. Tyus is the high flyer who protects the rim with athleticism and is a lob threat in the pick-and-roll, while Parakhouski protects the rim with smarts, can operate in the short roll and even knock down a mid-range jumper.
Spahija has put pre-season worries about roster structure to rest by finding a system that properly utilizes the talent at his disposal and almost optimizes it. The real test will come when teams get a greater look at Maccabi and figure out how to stop their plan A. Does Spahija have a plan B? A plan C? If so, they could get themselves a favorable playoff match-up and maybe even push for the Final Four.
Now, the fun stuff.
With this being a biweekly column that goes up on Thursdays, photos, quotes, and other data gathered is only from the first two rounds and doesn't include any Round 3 action.
Photo of the Week: These Fenerbahce fans appeared to have made the trip from Turkey to Italy to support their club which is impressive in general, but mainly impressive for one of them because it appears that any lengthy travel is not the most comfortable thing for him.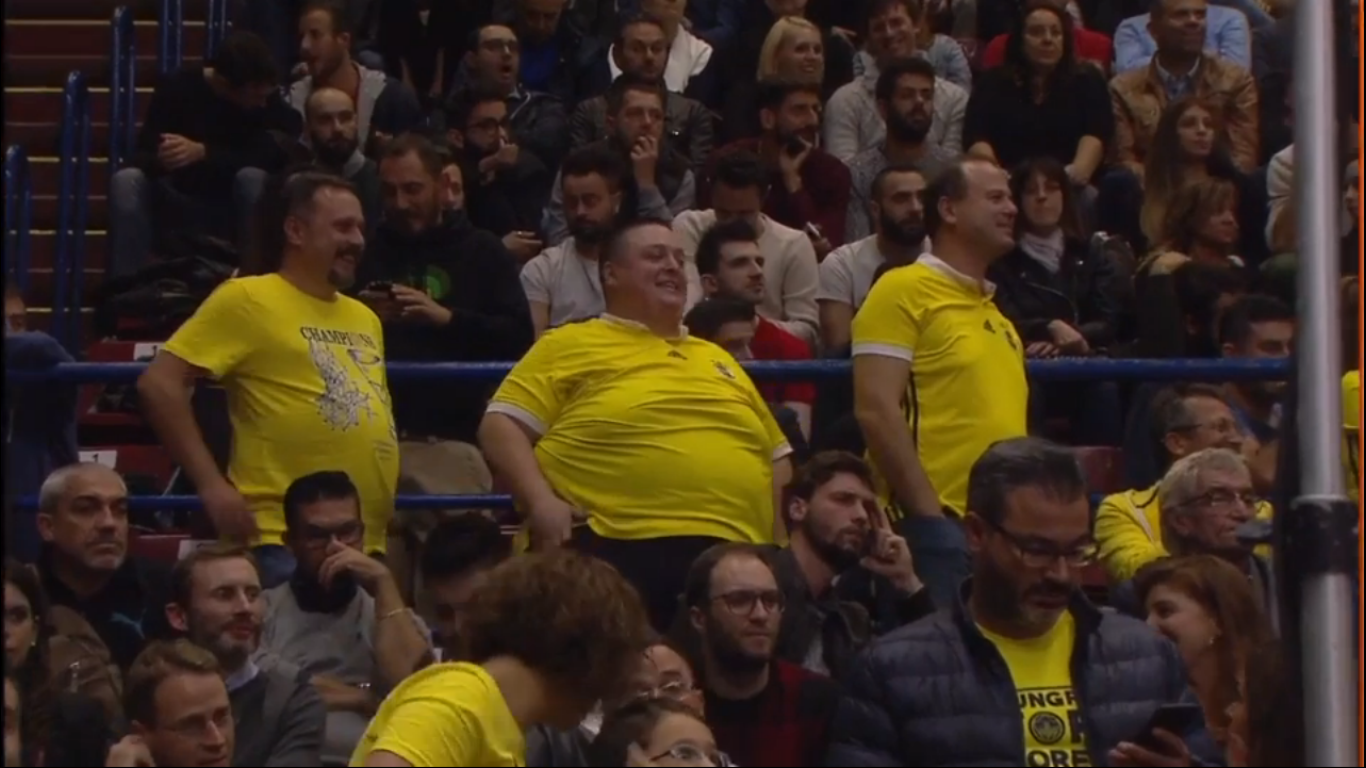 Quote of the Week: Trinchieri, Pascual and Itoudis all had fairly aggressive negative quotes about their respective teams in blowout losses from the first two rounds of play but my favorite quote so far comes from Sarunas Jasikevicius after Zalgiris beat Zvezda 78-76 at home in Round 1. "It was an amazing atmosphere. Too bad that as a head coach you don't really enjoy it more because there are 2,000 things going through your head."
Trillion Watch: For those of you who don't know, a player earns a trillion by playing in a game and not docking any stat that shows up in a box score. Meaning his box score line reads his number of minutes played, and then 12 zero's, hence the use of trillion. For example, if a player plays one-minute and doesn't dock any stats, he got a 1-trillion. The hype of trillions started with The Ringer's Mark Titus's Club Trillion which he started back in his glorious bench warming days with Ohio State basketball, and my father – Chris Bernucca – used to include a trillion watch for the NBA in his column at Sheridan Hoops.
From Round 1, Nikola Jovanovic picked-up a 1-trillion for Zvezda, Melih Mahmutoglu got a 2-trillion for Fenerbahce and Milano had three players finish the game with trillions! Marco Cusin got a 1-trillion, and Cory Jefferson and Simone Fontecchio each got 2-trillions. Charles Jenkins of Khimki Moscow started and escaped a 20-trillion by shooting 0-of-2 from the field and fouling out. The big winner of the Round 1 trillion watch though, is Carlos Delfino of Baskonia. In the season opener against Olympiacos Delfino finished with a six-trillion. Not the best start to the Euroleague season.
From Round 2, not a strong showing for trillions here, which is good for everyone but me. Stefan Lazarevic and Vincent Poirier logged 1-trillions for Zvezda and Baskonia respectively, but Alberto Abalde was the clear-cut winner (or loser?) for the week as he logged a 6-trillion in Valencia's victory over Efes.
Game of the Week: We're stuck with the Round 4 match-ups only here due to scheduling (sigh). For what it's worth, my pick for Round 3 was Maccabi-Olympiacos.
In Round 4, the match-up between the two Spanish newcomers – Malaga and Valencia – should be a great game. Both sides have playoff aspirations and have demonstrated more than enough skill to reach those aspirations. But there are only eight spots so their might not be enough room for the two of them come the end of the season. This game could pose huge tiebreaker implications when the season starts to wind down.
Game of the Weak: For Round 3, my pick was Real Madrid vs Milano. This could be an okay game, but this is just a cruel start to the season for Pianigiani's side – at CSKA Moscow to open and then hosted Fenerbahce for Round 2 – and it just needs to be over already so we can see if they're actually good enough to fight for a playoff spot.
For Round 4, Panathinaikos hosts Fenerbahce and Panathinaikos is going to get featured in this section a lot because I'd rather watch grass grow then watch that team try and play basketball.