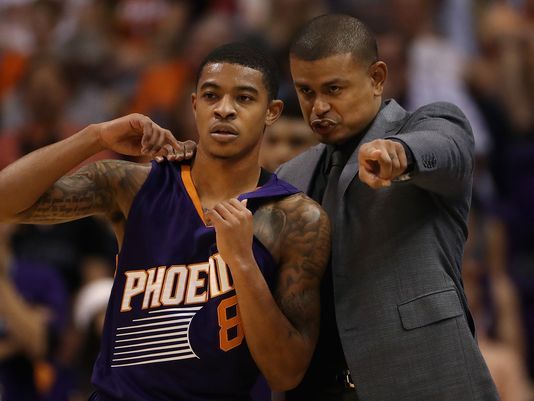 While the Phoenix Suns have had an overall disappointing 2016-17 campaign, they have shown signs of life in recent games. Though their lowly 21-42 record and second to last seed in the Western Conference is nothing to write home about, head coach Earl Watson and the rest of the Suns' organization have seen some of their rawer prospects begin to make strides.
Pheonix stumbled out of the gate after the All-Star break and dropped three straight. However, since then, we've seen youthful pieces such as point guard Tyler Ulis and forwards Derrick Jones Jr. and Alan Williams help the Suns string together three straight victories two of them over quality teams such as the Oklahoma City Thunder and the Boston Celtics.
Though their established starting backcourt of Eric Bledsoe and the sharpshooting Devin Booker continue to shoulder most of the scoring load, we've seen loads of promise from their young role players in recent games. While this season has been a wash for some time for Phoenix now, the team has begun to heat up as the campaign dwindles down and they've been doing it without two of their key rotational pieces in Brandon Knight and Tyson Chandler. When head coach Earl Watson was asked about whether he'd tinker with the rotation anytime in the near future, Watson said he'd only do so if management saw fit but otherwise, he plans to move forward with their current momentum. Following from Doug Haller of AZCentral Sports:
…Suns coach Earl Watson was asked when or if he planned to return center Tyson Chandler and guard Brandon Knight to the rotation. Both players haven't played since the All-Star break, a stretch of six contests, including Sunday.

"I'm not changing it unless management changes it," Watson said. "I have a boss and my boss has a boss, so whatever comes from up top is what's going to happen. And right now, that's not even part of our equation."
With Chandler and Knight both without any listed injuries, it's clear Watson is focused on evaluating their younger talent for the remaining 20 games. While the future is already bright with Devin Booker not even being of legal drinking age yet and Eric Bledsoe getting set to enter his prime, the impressive performances from their inexperienced role players could make the ceiling for this youthful Suns team even higher.
Look for Ulis, Williams, and the sky walking Jones Jr. to continue getting consistent minutes for the rest of the campaign, as Watson and the Phoenix front office are going to have important roster decisions to make this offseason.