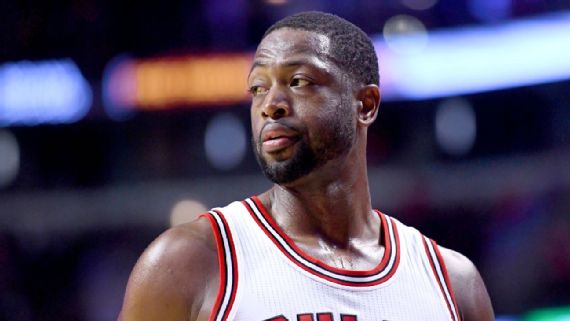 Dwyane Wade is no longer the player he once was. At age 35, Wade is aware that his time in the NBA may be coming to an end. That thinking could have very well motivated Wade to sign an extension worth nearly $24 million with the Chicago Bulls. However, the Bulls front office has made a series of moves that have securely planted the team into a rebuild.
While Wade may no longer have the physical talents he once had, he still has the competitive drive to win a championship. With reports that the Bulls and the three-time NBA champion have discussed a buyout of his current deal with the team, Wade's desire to win could certainly have an impact on where he lands. Wade discussed this desire to still win in an interview with David Aldridge.
The Miami Herald transcribed the conversation,
"First of all, obviously, everyone wants to compete," Wade said. "It's no secret. We would all love to compete for a championship at the end of my career. That is one thing I would love to do. I'm not in a position right now to do that, so I can't talk about what that preference is. Hopefully, one day before I'm done playing this game, I can be back in position to compete for a championship."

Aldridge asked whether it's fair to say he will report to the Bulls and provide leadership but "in a perfect world" would "be back on another team that can compete."

Responded Wade: "Definitely, definitely. It's no secret. And everyone knows that. I've been lucky. I've been to five Finals. So If I never go to another one, I can't complain. But I would love to. I would love to, because I feel I can add to something a team that's in that position. That's not something I can focus on or something I can worry about right now."
The Miami Heat and the Cleveland Cavaliers have both been linked to the 15-year veteran as potential teams that could have services if a buyout agreement is reached. If Wade truly wants to compete for one last title Cleveland is the obvious choice for him. It will be interesting to see how it all unfolds.